Soft Custom Face Mask Printed With Logo
Full Color Dye Sublimated Masks
Soft Polyester & Spandex Fabric
3M Scotchgard Protection Silverplus Technology Fabric
100% Custom Design
Includes Adjustable Ear Loop & Filter Pocket
Adult or Kid Mask Sizes
Split Order Between Sizes
2 Layers of Fabric with Pocket For Filter (2 ply)
Outside Layer: Polyester Spandex; Inside Layer: Cotton
Reusable and Machine Washable
Free Shipping
Minimum Order: 50 pieces 
Current Turnaround: 2-3 Weeks
Custom Printed Face Masks – 100% Personalized
Show off your company or team colors in style while keeping your staff and clients safe with custom printed face masks. This custom face mask is printed on a soft and comfortable polyester and spandex fabric with 3M Scotchgard protection and silverplus technology provide . Personalized face mask allow you to customize the entire front of the mask with you logo, illustration and company or team colors. These reusable masks include 2 layers, an outer polyester/spandex layer and a internal cotton layer. with a pocket that allows a filter to be inserted in between the layers. .  Use full color  printing to create a unique dye sublimated face mask that stands out from the rest. Equipped with an adjustable ear loop provide maximum comfort and ensure a comfortable fit for most face sizes and shapes. The filter pocket allows you to insert a PM2.5 filter, which adds an extra layer of protection for this 2 layer/2 ply mask. Masks are reusable and washable. kids mask sizes are available.
The CDC recommends wearing cloth face coverings when out in public to reduce the risk of catching and spreading infections. Our custom printed face masks provide the perfect balance of comfort and style, all at discounted prices. These custom printed fabric masks are an ideal promotional tool whether you are giving it out to your staff as a part of their uniform, to your clients or even for selling them as a retail item to your most loyal customers.
 3M Scotchgard Protection Silverplus Technology
With the additional protection, our masks do not get dirty easily due to moisture. This state of the art technology wicks away moisture and helps with for easy removal of stains during washing. Treatment with silver chloride protection helps keep the masks fresh and odor-free even after multiple uses.
Superior Level of Protection and Comfort
We use a 2-layer design for our cloth face masks for protection against the elements. The outer layer is made of a premium polyester and spandex blend. The inner layer is made of soft cotton for ultimate comfort. These personalized masks also have a filter pocket which allow you can insert a PM2.5 filter as a third layer of protection
Why Buy Custom Masks In Bulk?
One of the most popular uses of custom masks is to promote a brand or a product. Many companies are now making the most out of their marketing objectives by turning regular face masks into mobile billboards. Order face masks online, printed with your logo and enjoy increased visibility. The more you order, the more you save. A logo face mask is  great for showing pride and solidarity for schools, sports teams and any other cause. Help protect your students, employees, clients or team members.
Free Graphic Design 
We can provide you with complete design services for FREE, to make sure that your custom face mask will look sharp and ensure that is produced to your expectations. We offer a free design on your face mask when you order 200 pieces or more. This includes basic designs with your provided vector logo. We can also assist you in designing a more custom and unique mask if you require illustrations or something more detailed. Contact us for a free consultation. Simply fill out our Design Request Form, and we will do the rest. We will help bring your ideas to life and send you several layout ideas within 24-48 hours. We will work with you until you are completely satisfied with your custom design.
Over 20 Basic Layout Options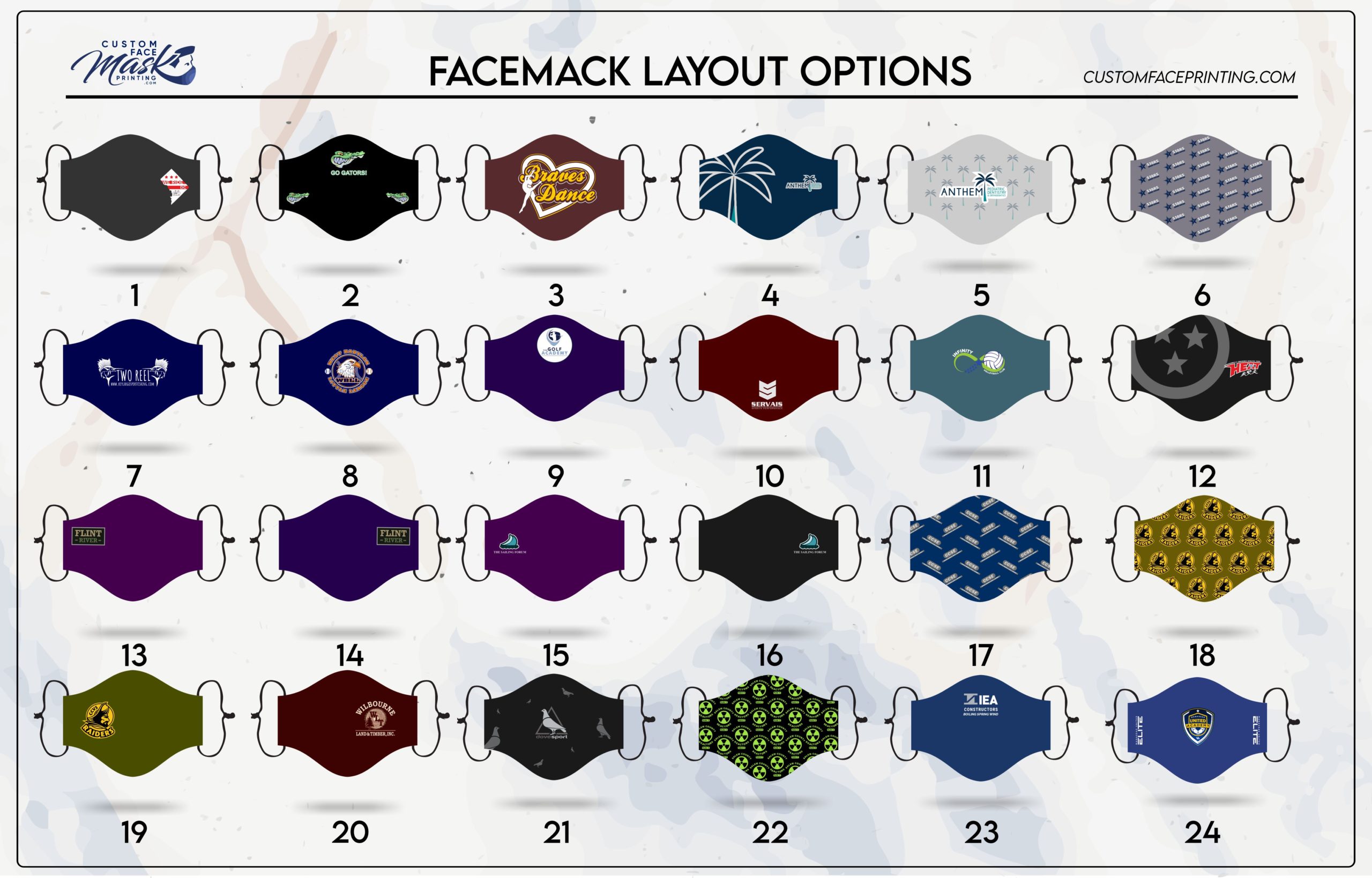 Select from over 20 layout options or have us create a custom design or illustration for you.  Just tell us what you have in mind and we will do the rest.
Free Online Design Tool
If you want to make your own face mask, you can use our free online design tool. Add your logo, text and create a unique branded mask.
Custom Illustrations, Logos & Character Illustrations
We can help you design a custom logo, illustrate a mascot for your team or business or assist with other custom projects that exceed the level of our standard free design. Contact us today for a free quote. Custom illustrations start at $50. We can help bring your idea to life and provide you with custom illustrations that will far exceed your expectations.
Dye Sublimated Face Masks
Your personalized cloth face masks are printed in bulk, using high quality dye sublimation printing technology. This state-of-the-art method of printing ensures the highest quality of printing. Your artwork can be designed to be printed in any color, using your company or team logo. Dye sublimation ensures that the print will stay on in spite of prolonged use or repeated washings.
Custom Face Masks @ Wholesale Prices 
Order your custom face masks in bulk and save hundreds of dollars. Masks can be ordered in quantities as low as 50 pieces per order. You can now buy premium face masks branded with your logo at below wholesale prices. Why pay more, when you can get additional features for free.
Adult or Kid Sizes
Our cloth face masks come in adult and kid sizes. When you place an order, you can choose a single size or any combination of the two available sizes. Our turnaround at the moment is 2-3 weeks. The minimum order quantity is 50 pieces and shipping is absolutely free.
Why Print Face Masks?
Due to the current pandemic, masks and face coverings are in high demand as businesses and consumers scramble. Help keep people safer as we transition back into our day to day lives. This makes for a unique promotional marketing tool that ensures that your promotional mask will be worn repeatedly by your staff or clients. They can even be added as a retail item and sold to your most loyal clientele. Masks are meant to provide protection against splashes, large droplets, pollutants, hazardous fluids, or sprays of bodily fluids. However, these branded cloth face masks are not intended to be used to replace N95 masks or any other medical grade masks. They are meant to serve as a primary barrier to coughing or sneezing.
Face Coverings 101
You should wash your mask frequently. You can use a household washing machine. Use warm temperature and medium heat in the dryer.
Wash your hands with soap and water before handling your mask. When putting on or taking off your mask, make sure to not touch your eyes, nose, or mouth. Make sure that the mask covers your mouth and nose. Your hands should be washed with soap after handling your mask.
The CDC is recommending cloth face coverings to be worn in public settings to help slow the spread of COVID-19.
FAQ
The following are guidelines by the CDC regarding the use of face masks:
Can I see a mock up of my design before I order?
Yes, we will design your face mask for free and show you several layout ideas for you to choose from. Simply fill out the design request form, and we will do the rest.
Can I split up my order between different designs?
If you order more than 100 masks, you can split the artwork between 2 different designs for an additional $40 set up fee. Larger orders can be split up to include different designs. Contact us today for a free quote or if you have any questions.
How will my masks be packaged?
Each mask will be individually poly bagged and packaged in bulk.
Should I wash my face mask and how often?
Absolutely. Masks should be washed with the frequency depending on how often they are used.
How can I safely sterilize/ clean a cloth face covering?
Most non-disposable fabric face coverings can be washed using a washing machine and dried using a household dryer. Our masks can be machine washed in warm water and dried in high heat.
How do I handle and remove my mask?
Wash your hands with water and soap before putting on a mask. When putting on or removing your mask from your face, make sure to not touch your eyes, nose, and mouth. It is a good practice to wash your hands immediately after removing your masks.
Can I order A Sample?
Yes, you can request a free sample of this mask by filling out our this form.
Do You Print Other Types Of Face Masks?
Yes, we carry a full line of custom printed face masks at affordable prices. We add more options all the time, so please keep checking our website. We also offer many custom options which include masks with a clear plastic on the front. Contact Us today if you do not find what you are looking for.