Your Custom 1 or 2 Color Logo Printed On a Neon Face Mask
Adjustable Ear Loop
2 Layers of Fabric with Pocket For Filter
Soft Cotton Fabric
Reusable and Machine Washable
Free Graphic Design
Free Shipping
Available Mask Colors: Neon Pink, Neon Yellow, Neon Green, Neon Orange
Minimum Order: 200
Current Turnaround: 3 Weeks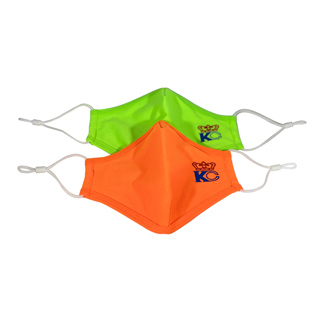 Our custom neon face. masks can be printed with your custom 1, 2 or 3 color logo. Personalize one of our branded neon face masks and include your company, team or school logo for a unique head covering that stands out from the rest. Select one of blank masks and and screen print your logo on the left or on the right side of the mask. Available colors include neon pink, neon yellow, neon green or neon orange. Price includes an adjustable ear loop for a comfortable fit. Personalized neon masks are perfect for schools, government agencies, churches and any business that wants to protect their staff or clients. Masks are treated with Nano and antibacterial protection. To get started, simply fill out our Design Request Form.
Free Graphic Design 
Send us your vector logo, and we will design your custom neon face mask for free. Simply let us know what color mask you are looking for, the positioning:  Top left, bottom left. top right, bottom right or center. All you have to do is fill out our Design Request Form, and we will do the rest. We will show you virtual proofs to select from.
Free Shipping: 
All wholesale customized neon face masks include free delivery to you within the United Staes.
We offer a full line of customizable face masks, including full color, 100% custom dye sublimated face masks.