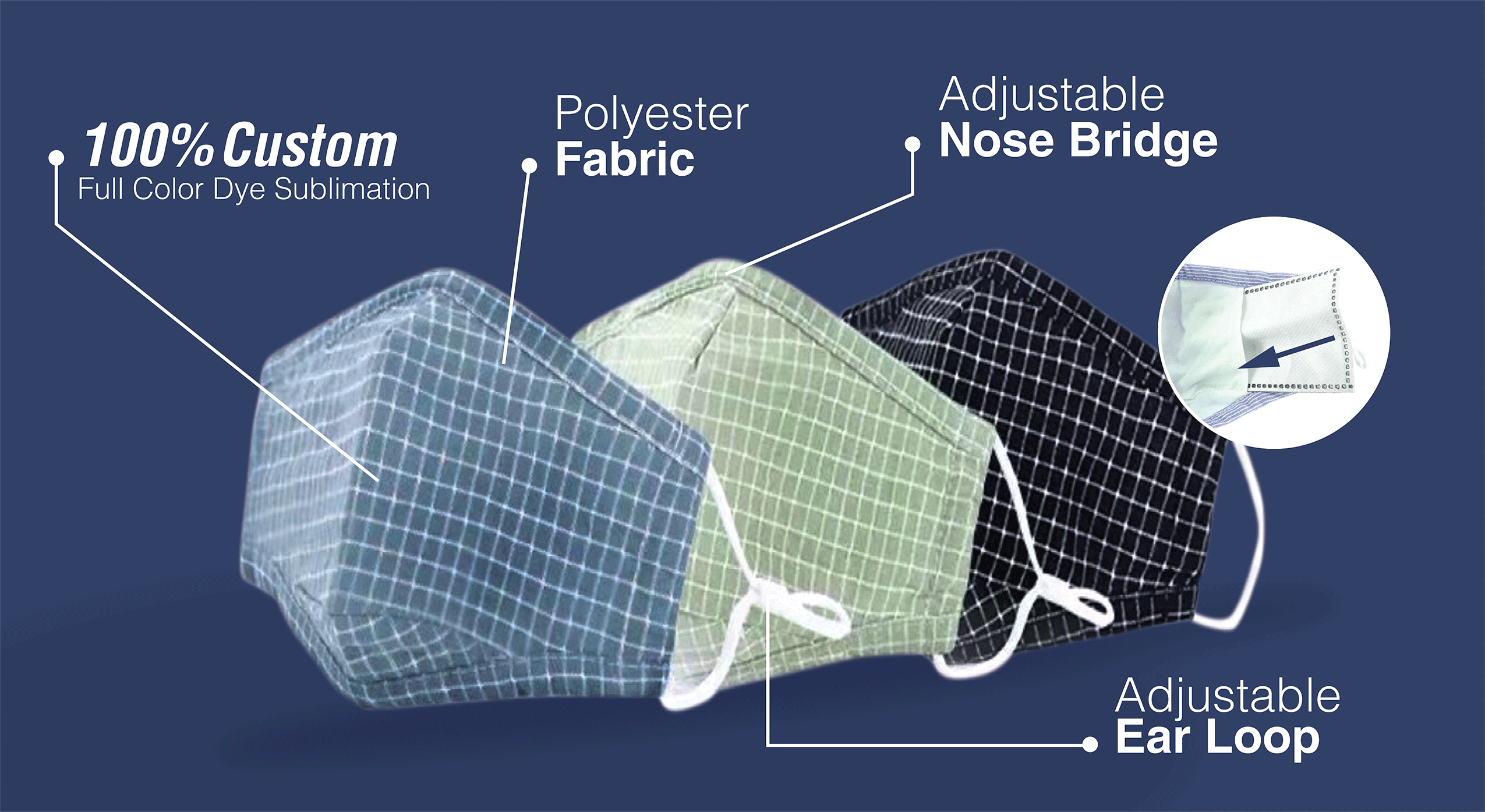 Custom Sublimated Face Masks With Adjustable Nose Bridge
Adjustable Ear Loop and nose bridge
 Full Color Dye Sublimation Printing
2 Layers of Fabric with Pocket For PM2.5 Filter (2 ply)
Outside Layer: Polyester; Inside Layer: Cotton
2 Available Sizes: 9.45″ x 5.5″ (adults) ; 7″ x 4″ (kids)
Reusable and Machine Washable
Free Graphic Design
Free Shipping
Custom Kid Size Face Masks Available
Individually Poly Bagged
Current Turnaround: 2-4 Weeks
Minimum Order: 300 pieces
Custom Face Mask With Adjustable Nose Bridge & Ear Loop
Personalize the entire front of this dye sublimated face mask with a built in adjustable metal nose bridge makes this an extra comfortable mask to wear. The metal nose frame allows you to easily adjust the positioning of the mask, until you reach that perfect fit. The adjustable metal nose frame is a premium feature that differentiates between these and other types of face  masks. Mix in vivid, full color dye sublimation printing with an adjustable elastic ear loop, which allows you to adjust the o-ring until you reach a comfortable fit. This comfortable 2 ply printed face mask Includes a built in internal pocket for a PM2.5 filter. This allows an extra layer of protection. Custom face covering is available in a kids and an adult size. Masks comes individually poly bagged. Includes Free Graphic Design & Free Shipping. Simply fill out our Design Request Form, and we will do the rest.
Free Graphic Design & Online Design
Need help With Design?  We will be happy to bring your idea to life by designing your next project for you. Send us your logo, project details and  your ideas and we will do the rest. Simply fill out the Design Request Form, . Send us your information and we will show you layout ideas within 24-48 hours.

You can use our online design tool to design your personalized face mask with adjustable nose piece on your own. You can choose from pre designed templates, add your logo, text, illustration or anything else that you would like to create.