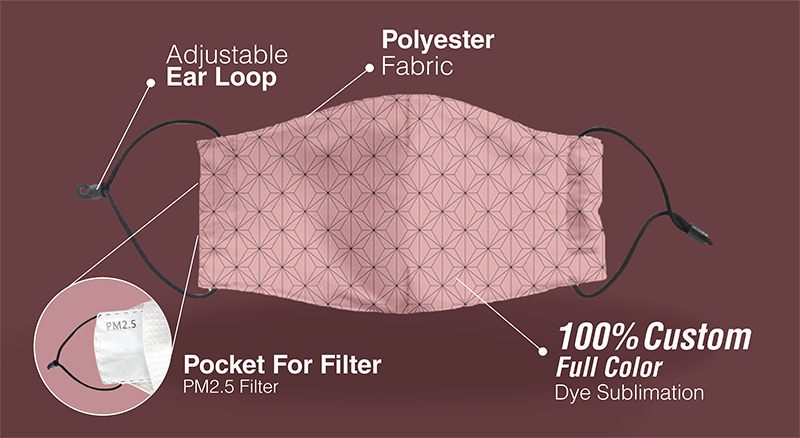 Custom Logo & Design
Full Color Dye Sublimation Included
Adjustable Ear Loop
2 Layers of Fabric with Pocket For Filter (2 ply)
Outside Layer: Polyester; Inside Layer: Cotton
Reusable and Machine Washable
Free Graphic Design
Free Shipping
3 Available Sizes (S (kids), M and Large)
Minimum Order: 50 pieces 
Custom Kid Size Face Masks Available
Current Turnaround: 2-4 Weeks

Custom Face Masks Printed

This custom face mask includes all over printing in  full color using state of the art dye sublimation. You can personalize your entire  face masks and include your logo, photograph or illustration to create a unique mask that will help keep your staff and clients safe. This custom 2 ply face covering includes an outer layer that is made out of polyester as well as interior cotton layer. It includes a useful pocket that allows you to insert a filter. Our personalized face masks are reusable and can be machine washed for repeated use. The adjustable ear loop allows your to mask to easily fit just about every person. Additional seams are stitches to provide a comfortable fit around your nose and mouth.

Personalized face masks allow you to create a unique product that becomes a walking billboard. It can also also be used to provide your staff with a uniform accessory that matches your brand's color scheme and overall look. Contact Us today if you are looking for face masks in bulk in quantities of 500 masks or more. We can offer free upgrades to a softer fabric on larger orders.

Free Graphic Design

Design Your Own Masks Online 

Free Graphic Design Services

If you are stuck and need help, we can help you design a unique custom face mask that looks professional – FOR FREE. In addition to our deeply discounted prices for a variety of custom face coverings, we offer free graphic design services for all of our face masks and neck gaiter products. All you have to do, is send us your logo and direction, and we will help bring your idea to life. We also offer higher end design services including logo design and illustrations. Contact Us today for a free consultation.

Use our free online design tool to customize your own face branded face mask or of of the many other face covering options that we offer. Upload your own design or  logo. Add text, photos and clip art and design it by yourself.
custom face masks

Adjustable Ear Loop


Most face masks on the market are considered 'one size fits most'. Although they can fit many face sizes and shapes, it is bound to not fit certain people. The adjustable ear loop is a stretchable elastic that allows you to adjust the length, so it fits comfortably around just about anyone's ears. This feature transforms face masks into versatile face coverings that can be handed out or even sold in a retail environment.

3 Available Sizes: 

In addition to having the versatility of the adjustable ear loop, these custom masks can be ordered in 3 different sizes (S (kids), M and L). This allows the mask to fit children, ladies and men. Check this product's image gallery for the dimensions of each option.

Free Shipping

Our deeply discounted prices include free shipping within the United States.

Premium Quality, Wholesale Prices 

You do not have to compromise quality when you order custom face masks at wholesale prices. We use state of the art technology to provide you with top quality printing services at discounted prices. With a wide selection of styles and fabrics, you can now pay wholesale prices for face masks and other cloth face coverings.