Custom Premium Seamed Neck Gaiter
Includes Stitching At Top & Bottom For a More Finished Look
Full Color Dye Sublimed Printing
Premium Milk Fiber Fabric – Soft, 4 Way Stretchable fabric, Comfortable
Dimensions: 8.65″ x 17.3″ (flat)
Fits most men and women Ages 12+
Lightweight, stretchable, washable, fade-resistant, reusable
UPF (Ultraviolet Protection Factor)  50+
Free Graphic Design & Free Shipping
Split Art Between Different Designs: Add $25/Additional Design
Helps protect from dust, wind, sun, germs and infectious disease
Versatile bandana with over 15 uses
Minimum Order: 100 Pieces

Kids Neck Gaiters Are Available
Individually Packaged In A Poly Bag
Retail Packaging Available
Average Turnaround: 3-4 weeks
Custom Neck Gaiters : Seamed

These custom printed neck gaiters are seamed for a premium look and feel on what has become a popular face covering option during the COVID-19 epidemic. Our printed personalized neck gaiters are, also referred to as gaiter masks, include full color printing on the entire front and back, using state of the art dye sublimation to produce a beautiful and comfortable tubular bandana that looks and feels great. Printed on a  silky and stretchable Milk Fiber fabric that is comfortable and soft. The premium fabric is lightweight and stretchable in 4 directions, with moisture wicking features. Our tubular bandanas are completely customizable and can include your logo, team mascot or any other custom graphics. Custom neck tubes are seamed at the top and bottom. They are printed on a flat sheet, then stitched together at the edge to create a custom 2 sided neck tube for a flat size of 8.65" x 17.3". Each piece is individually packaged in a poly bag. Order your custom neck gaiters in bulk and save! Looking to save money? Check out our seamless neck gaiters!
Advertise your brand with our custom made neck gaiters and gaiter face masks, which can serve as a walking billboard. A popular item amongst sport teams, businesses, churches, schools, universities and non profit organizations, Our personalized gaiters can be used as a giveaway or it can be sold in a retail or fundraising environment. They can be used to help your staff stay safe while providing a unique uniform accessory. It is also perfect for outdoor activities and sports like fishing, running, cycling and hiking.
Free Graphic Design 
Design Your Own Custom Gaiter Online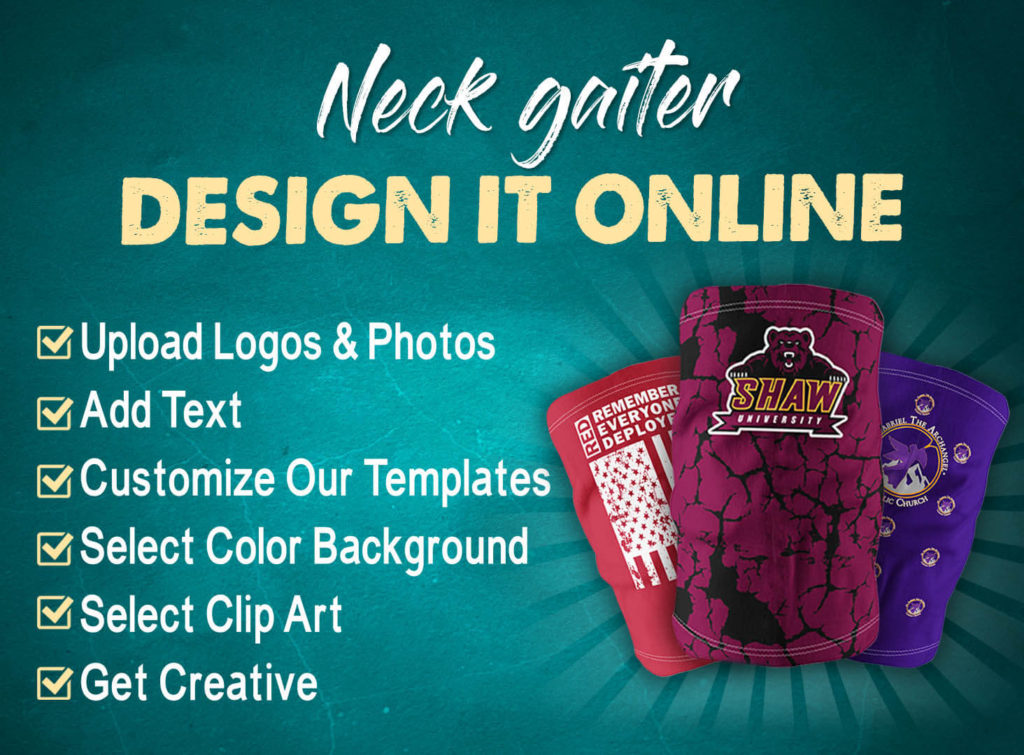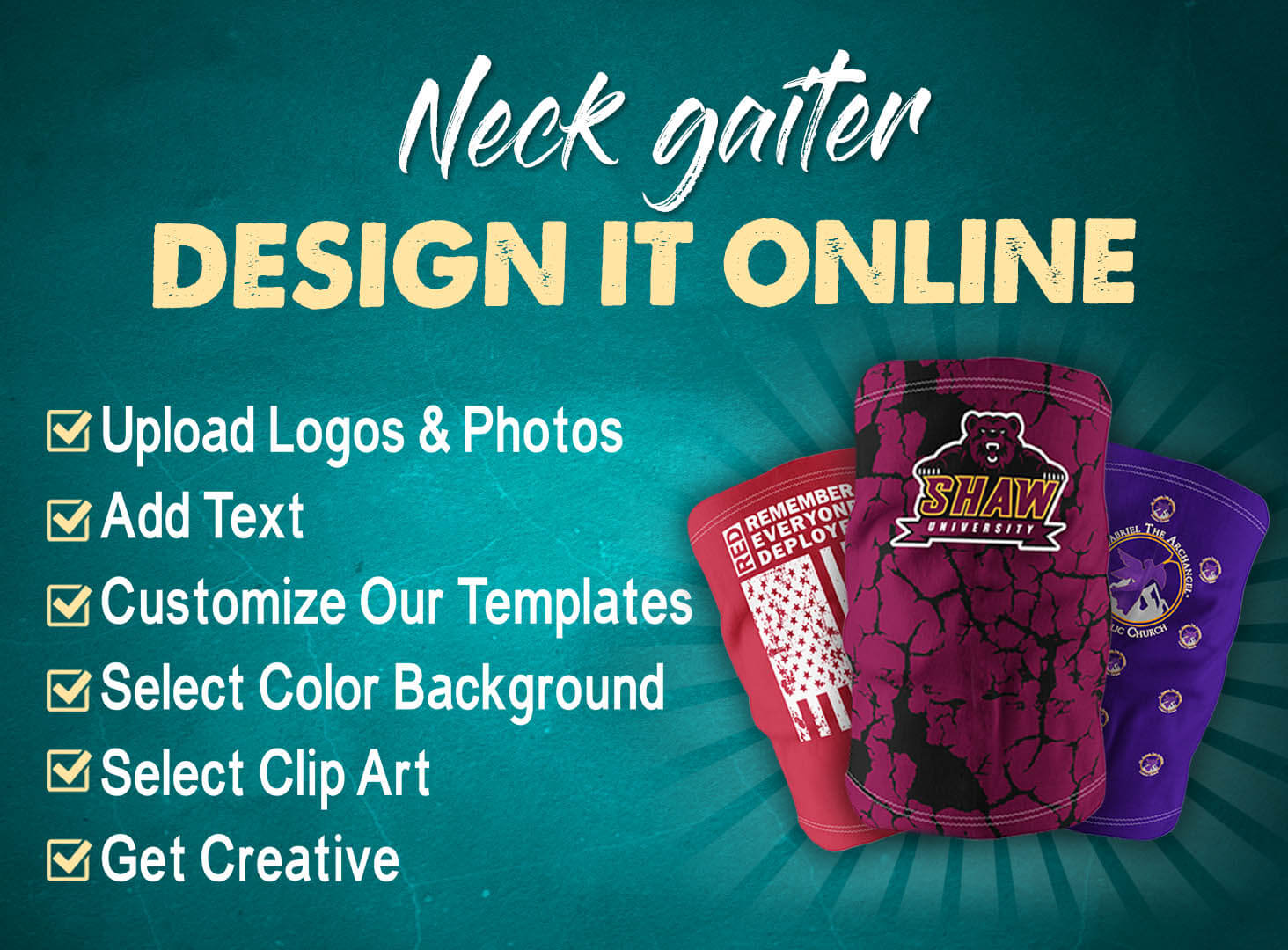 You are now able to design your own neck gaiter online 24/7/365. Our free online designer, allows you to easily upload your own logo, pictures and graphics. Customized your gaiter with text, clip art or you can even upload your design. We also provide you with dozens of eye catching templates that you can personalize.
Let Us Design Your Gaiter For You! 
If you need help making your graphics POP, we can help. We offer free design on all custom neck gaiter orders. All we need is for you to email us your company and order info, your  logo in a vector format, graphics and any idea that you might have. Choose from hundreds of background colors, tiling options or have us create a custom illustration for you. We offer free basic set up and design services that will exceed your expectations. We can  also create a premium design or illustration for a fair price ($50-$125).  Contact us now for a free consultation and let us help you get to the next step.
Seamed Vs. Seamless Neck Gaiters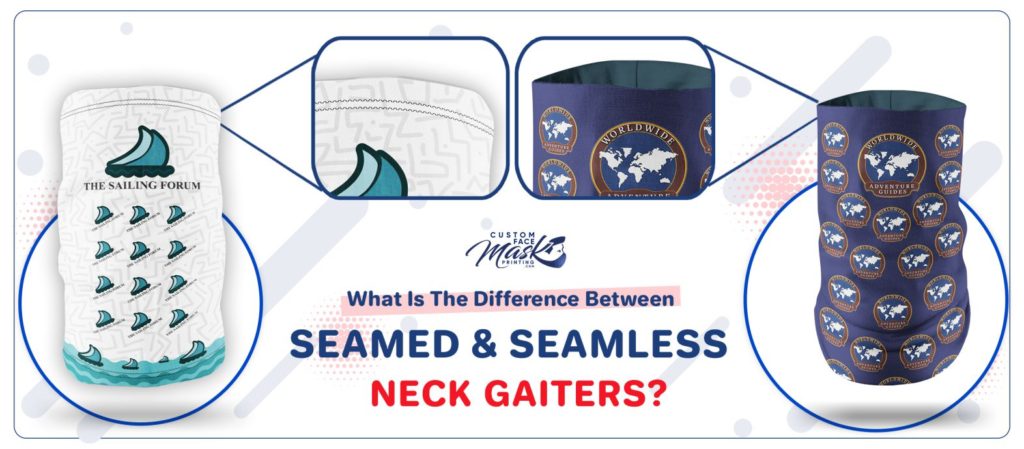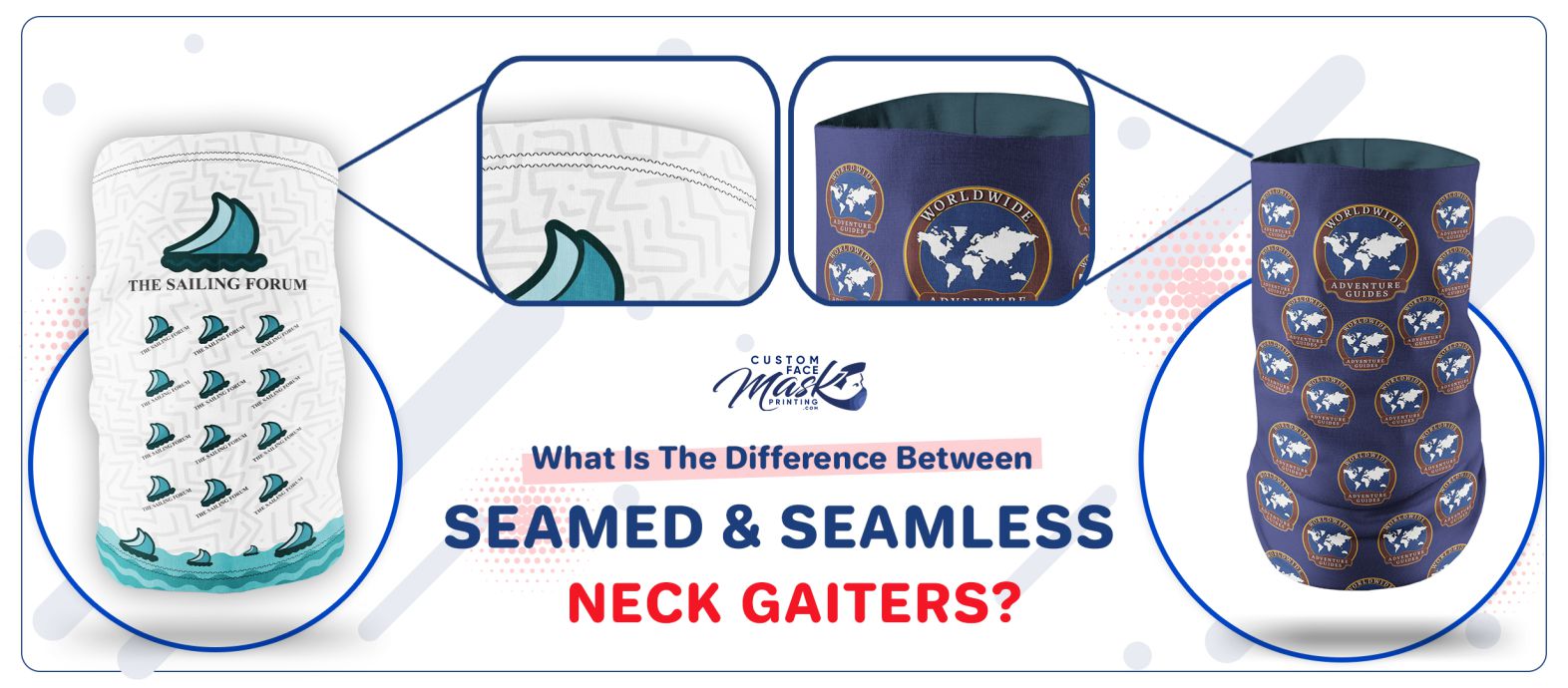 What is the difference between seamed and seamless neck gaiters?  With seamless neck gaiters, we take 2 rectangular pieces of fabric and stitch them together. The fabric is trimmed at the top and bottom, but does not include additional seaming or stitching at the top or the bottom. It is ideal when you want to keep your cost down or if you're giving way the gaiter as a promotional giveaway. Seamed gaiters include additional seaming or stitching at the top and the bottom, providing a more complete and finished look. We would recommend a seamed neck gaiter option if you are planning on selling these or if you are looking for a higher end face covering.
Select From Neck Gaiter Layout Options:
We can get started designing your own branded neck gaiter and show you several concepts. Simply fill out the design request form and we will do the rest. You can select one of the layouts below. You can use your logo in various tile options or select one of our other layout ideas. We can also customize any layout based on your needs. Contact us today if you don't see what you are looking for. We will work with you until you are completely satisfied.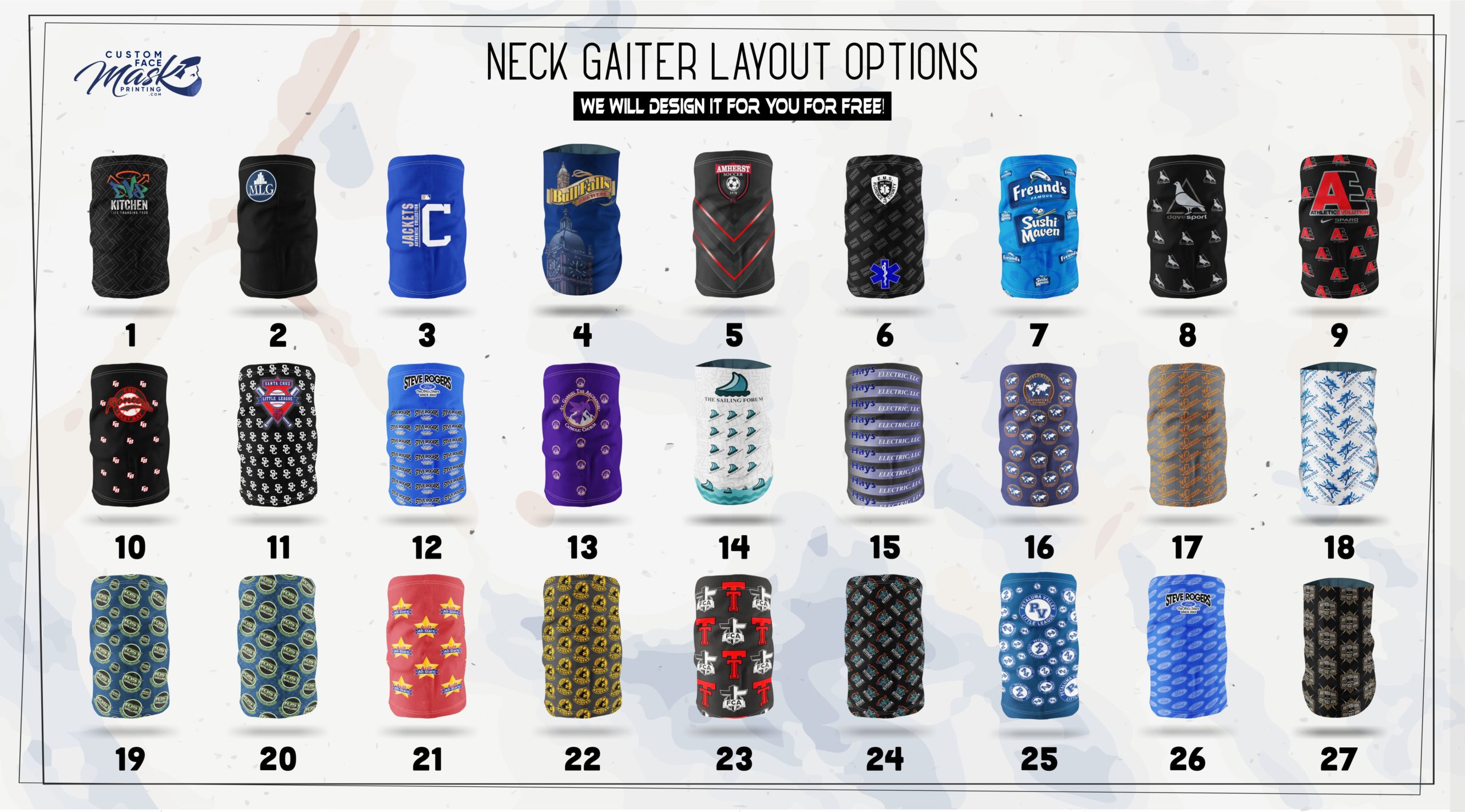 Free Shipping: 
All prices for face mask and tubular neck gaiters include shipping within the United States.
Below Wholesale Prices: 
CustomFaceMaskPrinting.com offers below wholesale prices for branded gaiter printing. Lowest prices online for neck gaiters printed in bulk. Compare and save! We encourage you to compare prices of our competitors, who often charge more for a seamless option that we charge for a full seamed gaiter with an upgraded fabric. A premium quality neck gaiter at wholesale prices.
Custom Gaiters Are A Perfect Fundraising Idea For Schools 
In addition to helping keep children safe, neck gaiters are a perfect fundraising tool for all types of schools, clubs and organizations. Why not use these handy head wear to raise money, while keeping the school spirit in the minds and hearts of the students? With a retail selling price of $12-$20, the tubular neck tubes provide the margins to be a part of any school's or organization's fundraising campaign.
MultiFunctional Neck Gaiters – Over 15 Uses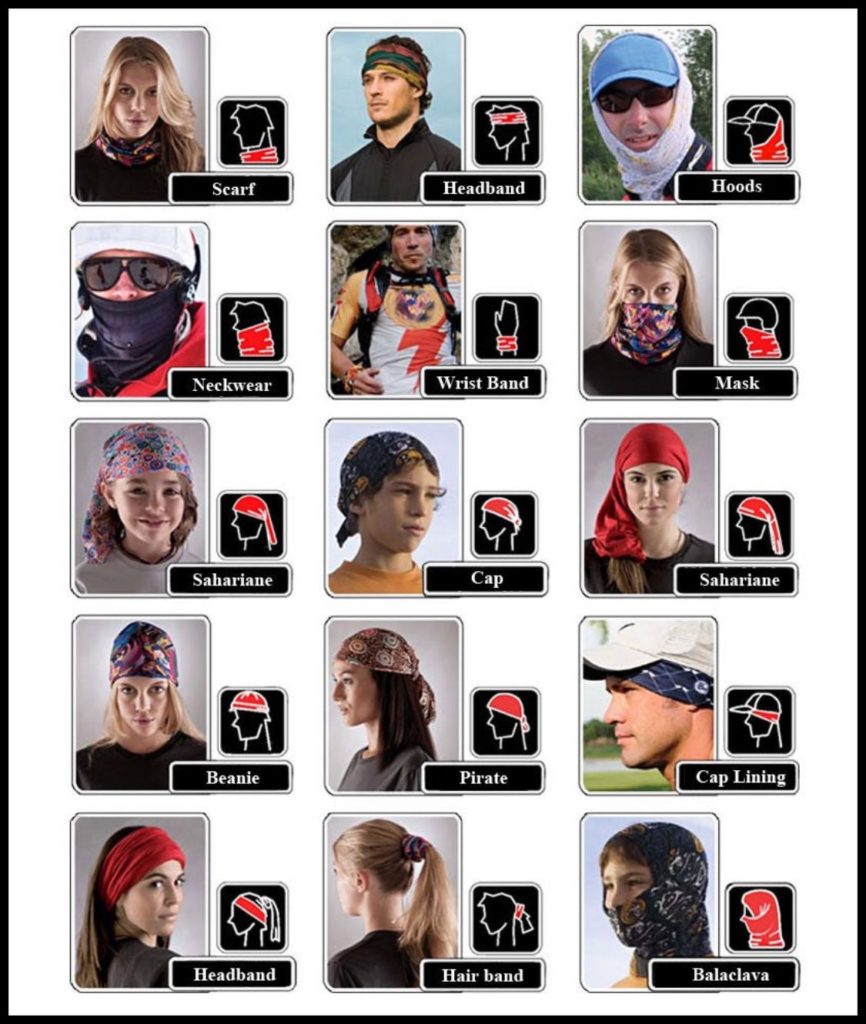 This useful promotional item serves as 15 products instead of 1. Multifunctional uses include wristbands, hair scrunchies, ponytail holder, beanie, hood, hat liner. scarf, sun guard, neck tube, sweatband and many more.
Ultraviolet Protection Factor (UPF)
The UPF rating measures the amount of UV radiation (both UVB and UVA) any given fabric reaches the skin. Polyester Fabric has a UPF rating of 30+, while Ice Silk has a UPF rating of 50+. As a guide, any fabric containing UPF 50, blocks 98% of the sun's rays while allowing 2%  (1/50th) to get through. This greatly reduces your exposure to the sun's potentially dangerous effects.

Special Packaging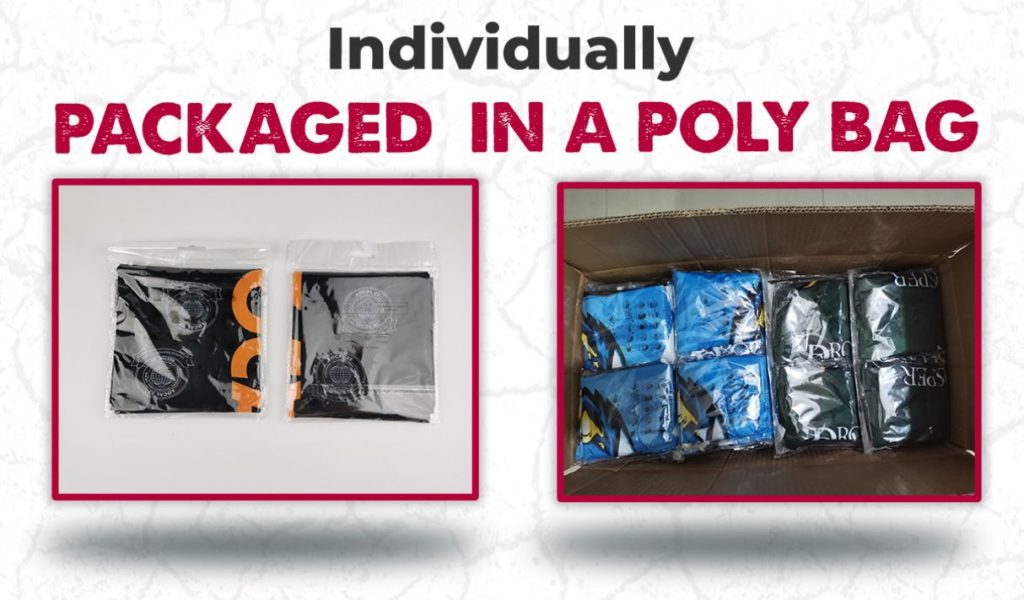 All neck gaiters are individually packaged in poly bags and are shipped in bulk. We also offer custom retail packaging options, if your brand requires special packaging.
FAQ: 
Artwork:
Dye sublimation is the process which allows you to print full color graphics on your personalized seamed neck gaiter. Although it is a versatile printing process, we do not suggest you use small text, thin lines or small graphic elements as it does not print very clearly. Feel free to contact us for a free consultation.
Can I Split My Order Between Different Artwork?
Orders of 100 pieces can be split between different colors or artwork. Each additional version of the art is billed at $25/design with discounts available for larger orders. Contact us for other special requirements. We will do our best to accommodate your needs while keeping the cost down.
How Do I submit My Order Details If I Want You To Design My Gaiters?
If you do not want to use our website to submit your order, you can email your order. Please email [email protected] with the following information:
Company information: Company name, Contact Name, Phone number, Billing Address, Ship To Address
Order Details: Product Ordered, Product Details (Quantity, Size, Special Finishing or Packaging Requirements) and  Price
Design Information: Please send us your logo, ideally in a vector EPS format, along with the color that you're looking for as well as general instructions of what you had in mind. This can include tiling your logo or any custom instructions. Please reference designs that you like on this website or any other design that you might like.
How Long Will It Take For Me To Get  Proof For My Custom Design
We do our best to provide you with a premium design that you will be happy to showcase. Most proofs will be emailed to you within 1-2 business days of receipt and confirmation of details. Revisions are usually made within 24 hours.
Washing Instructions: 
Neck gaiters are reusable and can be washed many times. Machine wash with cold water and let it air dry for best results.
Turnaround: 
The average turnaround is 2-4 weeks after final proof approval and payment has been received.
Do You Offer Samples?
Yes, You can order a sample before you place your order to so you can touch and feel it. We can send you a free sample or you can buy a sample of most standard 4 kids or adult gaiters for $8, including shipping. Contact us for prices on fleece and 2 layer gaiter samples.
How Do I Put On The Custom Logo Neck Tube?
Putting on your tubular bandana is easy.  Simply put the opening over your head and pull the gaiter down to the desired location. The fabric is stretchable so it is easy to put on and remove.
Can I Print PMS Colors?
Sublimation printing uses 4 color process inks. PMS colors can be matched when possible using four color process inks within the limits of the printing process. Precise matching of PMS colors is not always possible, but many PMS colors can be reproduced.
Are There Any Set Up Fees:
No. All of our prices include graphic design and set up as well as final delivery to you.
Do You Offer Stock Designs:
Yes, we offer dozens of stock designs that can be purchased. Minimum order is 100 and can be split up into different designs (10 piece minimum per design). Contact Us today for more information.
Is Protection From Disease Guaranteed?
No. Although the CDC recommends the use of face coverings, Neck Gaiters are not intended for medical use and does not guarantee against the spread of infectious disease.
Do You Carry Other Face Covering Products?
Yes, we carry a full line of custom printed face masks at discounted prices.