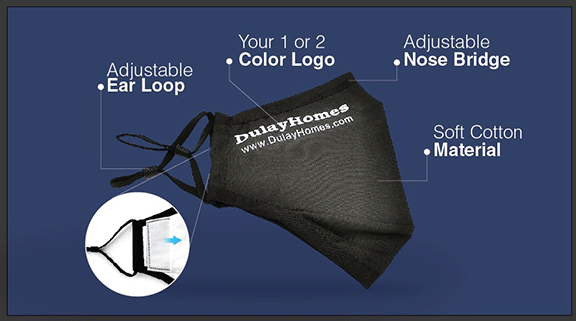 Custom Face Masks With Adjustable Metal Nose Bridge
Adjustable Elastic Ear Loop
1 or 2 Color Logo – Screen Printed on Face Mask
Price includes One Color Printing
For additional logo colors add: 10 cents/color/piece
Available mask base colors: Black, Red, Blue
Available in a matte or gloss fabric
2 Cotton Layers with Pocket For PM2.5 Filter
Reusable and Machine Washable
Free Graphic Design – Fill out Design Request Form
Free Shipping
Minimum Order: 250 pieces
Custom Kid Size Face Masks Available
Individually Poly Bagged
Current Turnaround: 2-4 Weeks
Custom Logo Face Mask With Adjustable Metal Nose Bridge
This reusable 2 ply custom face mask includes an adjustable metal nose bridge. The mask comes equipped with other popular features which include 1 or 2 color logo silk screened, an adjustable elastic ear loop and a interior built in filter pocket for PM2.5 filters. Full color sublimated face masks with nose bridge are also available. The masks are comfortable and can be washed many times using a house hold washing machine. The unisex design is meant to fit on many face sizes while allowing the nose and mouth to be covered, keeping you safe from the elements, germs and viruses. These comfortable face coverings are idea; for any business for employee or promotional use, for kids or adult sports teams or for sales in a retail environment . Each mask comes individually poly bagged, which is makes distribution of your face covering easy. We will design your face mask for free, with no obligations. To get started, simply fill out our Design Request Form and we will do the rest.
Adjustable Metal Nose Bridge
This comfortable yet cost effective face mask includes an integrated adjustable metal nose frame that can be adjusted for a comfortable fit, every time you wear the mask. This adjustable nose bridge is a useful feature that makes the custom face covering stand out from its competition. Wear the mask, and you will feel the difference.
Adjustable Elastic Ear Loop
Since everyone has a different size face, the ear loop serves as an important feature which often makes or breaks the effectiveness of the mask' ability to fit comfortably. Our face mask and custom face covering comes equipped with an easy to use, adjustable elastic ear loop. Simply put the mask over your face and the elastic ear loop over your ears and adjust the length of the ear loop, for a comfortable fit every time.
Pocket For PM2.5 Filter
The face mask includes a built in interior pocket, which allows you to easily put it, remove and replace a PM2.5 filter, which is recommended to keep you safer as an added layer of protection against the elements, germs or viruses.
1-2 Color Logo Printed On A Custom Face Mask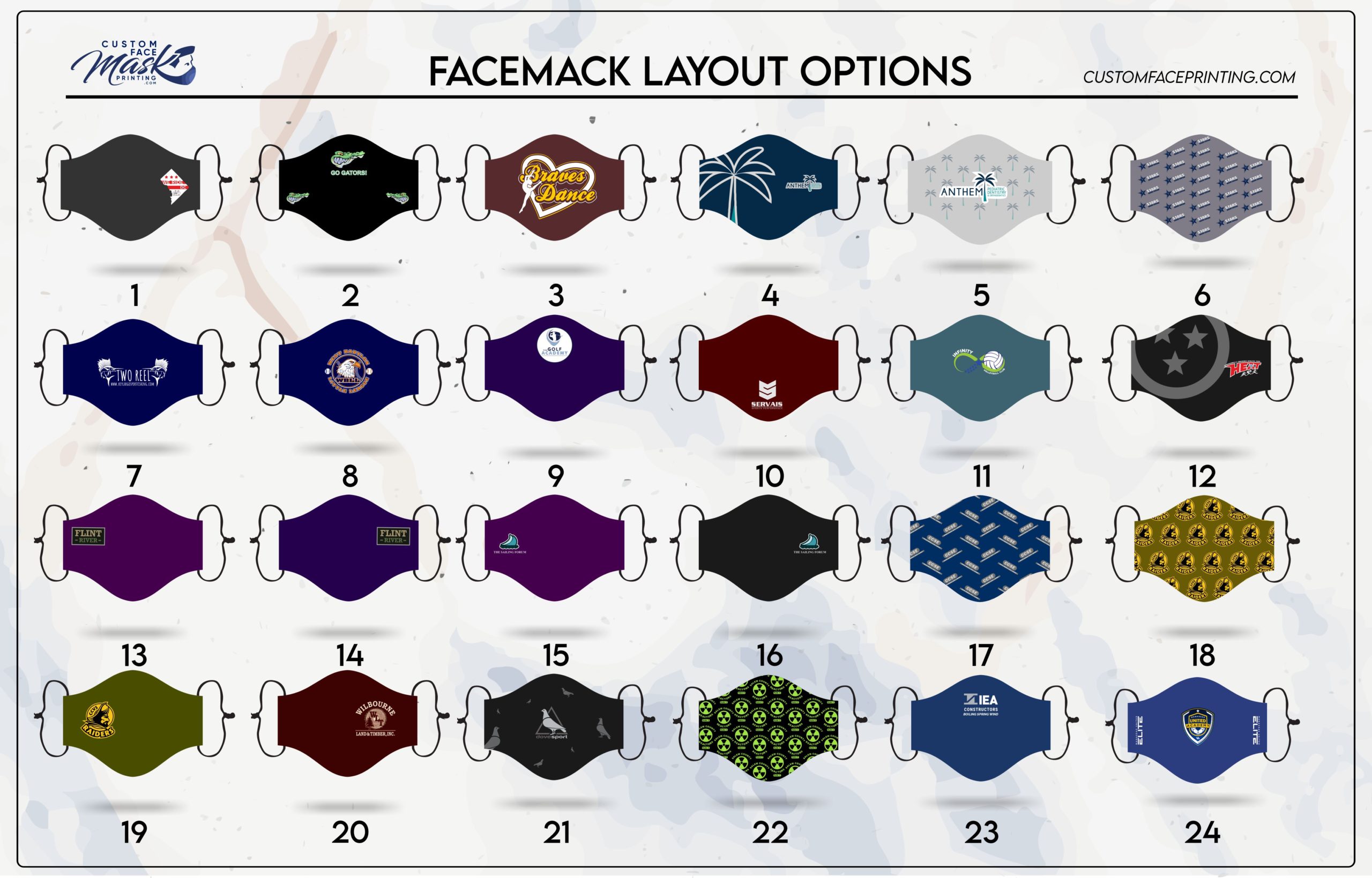 We can screen print your company, sports team or organization's logo, design or graphic directly on this high quality face mask. Note, that this mask only allows us to print a one or two color logo on the cheek, middle or on the side of the  mask. If you're looking for an all over dye sublimated face mask, please check:
Full Color Face Mask With Nose Piece  – Minimum: 300 Pieces
Custom Face Mask With Adjustable Ear Loop – Minimum: 50 Pieces
Soft Face Mask With Adjustable Ear Loop – Minimum: 500 Pieces
Free Design & Free Shipping
We offer a free online design tool that allows you to design your own face mask in the comfort of your home, using any house hold or computer or cell phone. Upload your logo, design, illustration or text. If you need help designing the mask, we will be happy to help bring your vision to life. Simply fill out the Design Request Form, and we will do the rest.
Your order includes free shipping within the United States. We can also ship your masks internationally. Contact us today for more information.