Custom Printed Balaclava Face Masks
Full Sublimation On The Entire Ski Mask
Full Color Printing
Soft & Stretchy Lycra Fabric
1 Size Fits Most
Lightweight, stretchable, washable, fade-resistant, reusable
UPF (Ultraviolet Protection Factor) 50+
Split Art Fee: $25/version – 50 piece minimum per version
Free Graphic Design & Free Shipping
Individual Poly Bag
Average Turnaround: 2-4 weeks
Minimum Order: 50 Pieces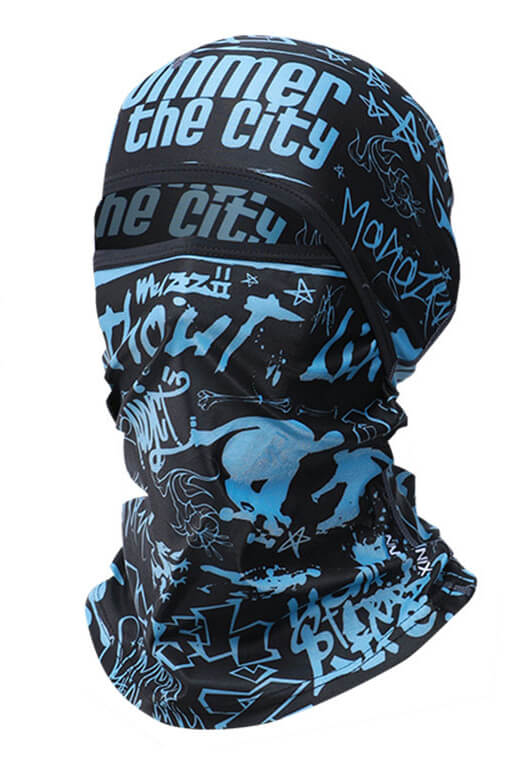 Custom Sublimated Lycra Balaclava Ski Masks
Our Custom sublimated balaclava ski masks are printed on a soft and stretchable lycra fabric and are a great promotional tool for clothing companies, record labels, sports events, trade shows, conventions, corporate functions, festivals and more. These printed balaclavas make a great gift for sports fans, outdoor enthusiasts and fashionistas alike. They are a great way to express yourself and stand out from the crowd. These custom one hole lycra balaclava ski masks are comfortable, durable, and offer great protection against the elements.Customize your balaclavas with your company or team logo, colors,  photograph, illustration or patterns. This unisex design offers a one size fits most is ideal for most adults. Custom printed Balaclavas are easy to order are perfect for work or play. We offer free graphic design and free shipping. To get started, simply fill out the Design Request Form, and we will do the rest.
These stylish and lightweight one hole balaclavas are ideal for cold weather sports and activities. With a unique design, these customizable balaclavas will turn heads wherever you go. You can choose your own background color, pattern and design. They are perfect for sports, fitness, running, cycling, camping, hiking, skateboarding, snowboarding, or just about anything else that requires warmth and comfort.  Whether you want to keep you warm from the cold or wear them as a fashion statement, they will definitely catch everyone's attention. The Custom Printed Balaclava is made from a soft and stretchy Lycra fabric which will make them comfortable and easy to wear. 
Perfect for outdoor sporting and safety events, Halloween parties, charity events, music festivals and more. Ideal for skiing, snowboarding, finishing or hunting. We can help you get the message across with custom printed balaclavas to suit any occasion
What Is A Balaclava Ski Mask?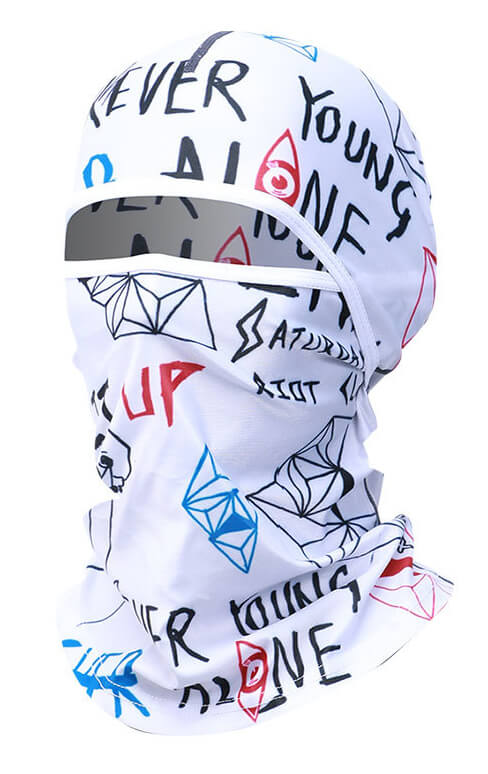 Balaclava is a custom head covering that covers the forehead, cheeks and back of the neck of a wearer. It is  made of lycra fabric, which is soft, lightweight and stretchable.  It is also washable and reusable.We offer free graphic design services. Simply fill out our Design Request Form and we will do the rest.
Split Your Art Between Different Designs
We are able to split your art between different versions if you order 100 or more custom balaclavas for an additional fee of $25 per version. Each version must be printed in a quantity of 50 pieces. Contact us today for larger quotes and custom requests.
Free Graphic Design
We can help you bring your idea to life with free graphic design services. Simply fill out the Design Request Form  . Send us your logo and provide us with the color, illustration, layout or pattern that you have in mind and we will design several layout ideas and email them to you within 24-48 hours.
Free Shipping
You will not need to add additional fees for shipping since our prices include free shipping within the United States. We can also ship worldwide and include free shipping to most countries.