Custom Logo Kids Neck Gaiters – Seamed Youth Size
Personalize Both Sides With Your Logo
Ideal for kids ages 12 and under
Full Color Dye Sublimation
Soft & Stretchy Milk Fiber Fabric
Add 25 cents/piece for different art on back
Reusable and Machine Washable
Free Graphic Design & Online Design
Free Shipping
Approximate Size: Approx  8″ x 12″ (20 cm x 32cm)
Minimum Order: 100 pieces 
Current Turnaround: 3-4 Weeks
Our custom kids neck gaiters are a fantastic way to protect your kids from wind, dust particles and germs. Customize your personalized youth sized gaiter with any logo, image, illustration or design! If you are looking to personalize or design your kid's own neck gaiter with your branded logo, these 8″ x 12″ sized gaiters are 100% customizable as they are printed using state of the art dye sublimation for full color reproduction and fade-resistant graphics. This allows you to use bright colors and even some PMS matches to create your very own custom youth neck gaiters, be it for a company logo, art design, personal branding etc.
Using breathable, soft and stretchy milk fiber, these custom neck gaiters for kids are also seamed at the top and bottom for comfort, and are not only easily breathable but can also stretch to fit basically anyone, providing additional protection to kids, from elements like sand, pollen and even the sun, as they also offer excellent SPF 50+ UV protection that will reduce your kid's exposure to the sun's potentially dangerous rays. They are also reusable and machine washable making them perfect custom neck gaiters for schools and sports teams such as little league baseball or football, bike racing clubs or any other team or school activity. Ideal for fundraisers, charities, gymnastics, dances, sports events and other outdoor activities, especially during this COVID-19 period, when face coverings are now required by law for school sports teams. They are a perfect giveaway promotional item for bar mitzvahs, bat mitzvahs, birthday parties or any other celebration. The youth size gaiters are printed on a stretchy, lightweight material. These personalized kids neck gaiters are multi-functional, and can even be worn as hair ties, wrist bands, head bands and more.
CustomFaceMaskPrinting.com offers a wide variety of custom neck gaiters and face masks for kids. We offer some of the lowest prices online for youth sized neck gaiters.
Free Graphic Design
We can help design your custom gaiter for free. Simply fill out the Design Request Form to get started. Simply provide us with your logo, company, order and shipping details  and we will do the rest. We will show you several layout ideas within 24-48 hours or submitting the form. You can select from over 27 neck gaiter layout ideas (see below) or we can modify a layout to fit your custom needs.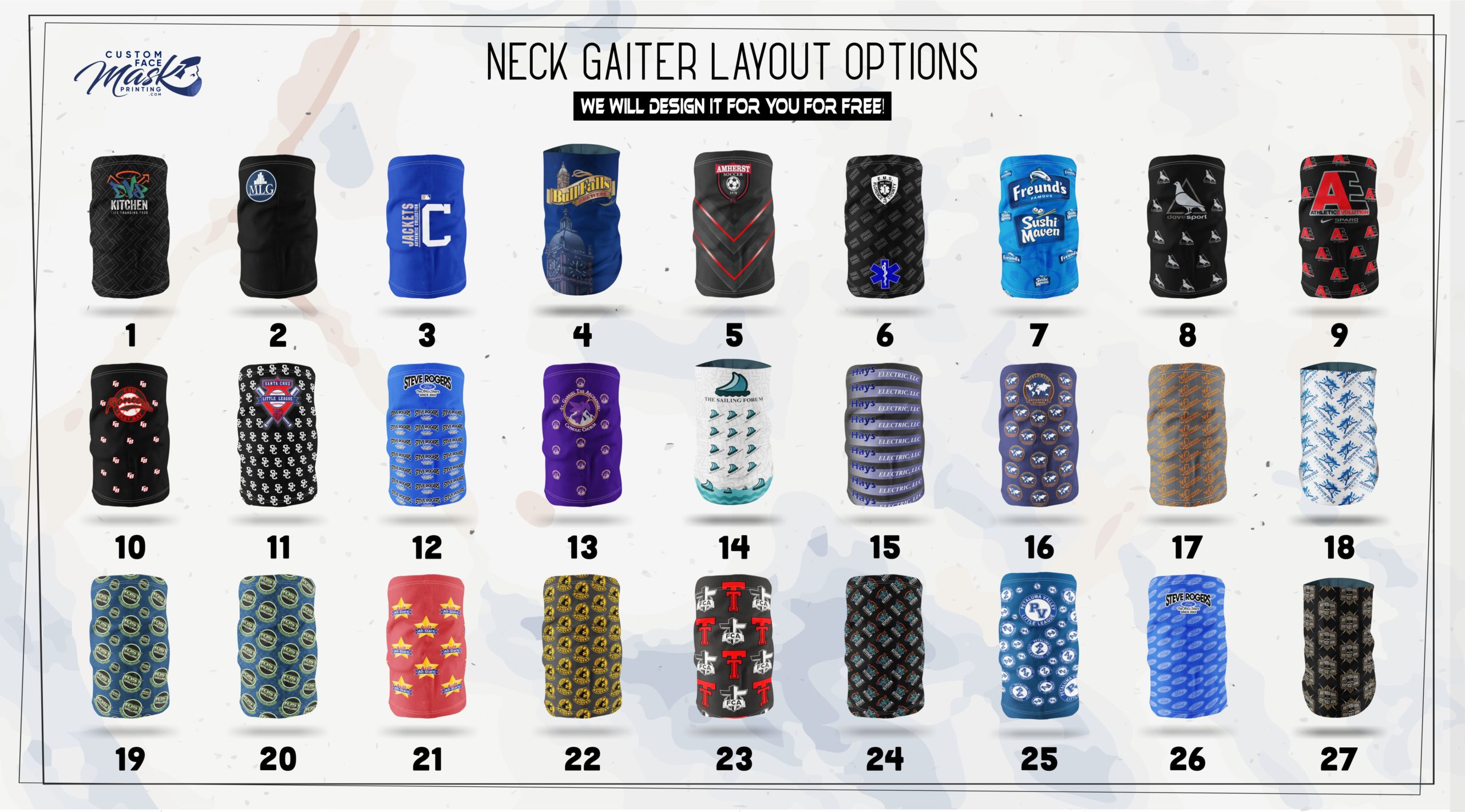 Design Your Kid Neck Gaiter Online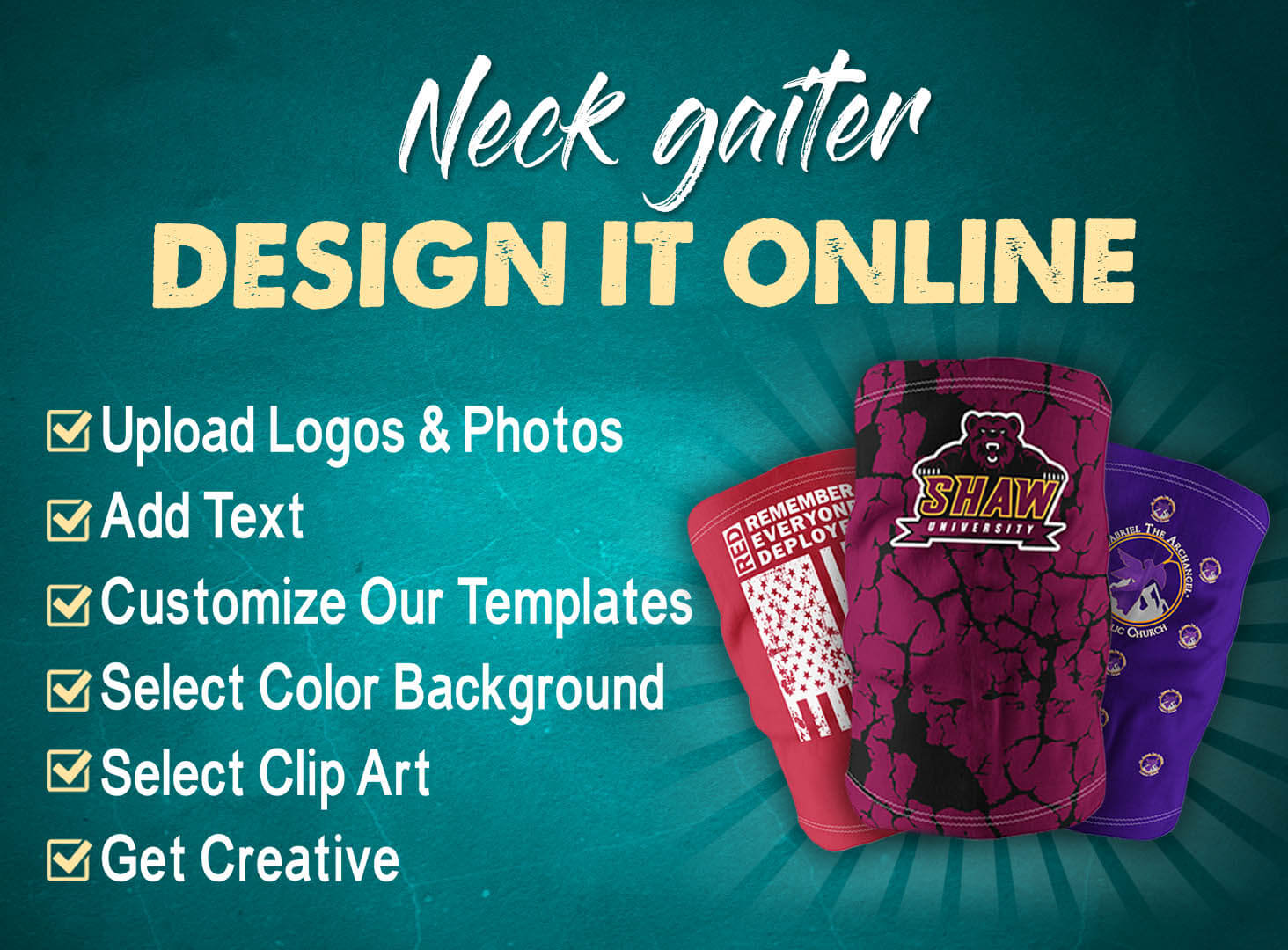 If you have a specific design in mind and want to design it yourself, you can also design your kids gaiter online with our simple and easy to use design tool that allows you to upload images, add text, change color and more. You can design your own gaiter and we will send you a virtual mock up as a proof before we start production.  We will be happy to design the gaiter for you as well, if you need help bringing your idea to life. You only have to send over your logo, or chosen design layout or design ideas and we will handle the rest! Simply fill out our Design Request Form and we will do the rest.
Custom Kids Youth Neck Gaiter Face Masks @ Wholesale Prices:
You can purchase these custom kids neck gaiters wholesale in quantities of 100 pieces or more and get a discounted price for buying custom kids neck gaiters in bulk. However, there is no limit to maximum quantity and shipping is free, so make sure to come order yours today or request for a custom quote!
FAQ
Why choose us?
Full Customization: Our neck gaiters are 100% customizable allowing for proper custom artwork to be imprinted, exactly how you designed it.
Online Design Tool: Our free online design tool allows you to easily and conveniently design your neck gaiter online. If you need help the design, you can utilize our free design service to achieve the perfect design for your gaiters.
Quality Materials: Our neck gaiters come made up of soft & stretchy milk fiber fabric that is strong enough to last you for years into the future.
Dye Sublimation Printing : All our products come printed using the dye sublimation process, which creates vibrant, full-color, fade-resistant graphics that are sure to satisfy your quality standards.
How does the dye sublimation process work?
This printing process allows us to digitally print your design in reverse on heat-transfer paper. After which, both fabric and paper are placed into a heat-transfer machine, which permanently prints the image into the fabric. This process is best suited to keeping your gaiter looking new, even after multiple washes, making sure that the design will not chip