Custom Balaclava Ski Mask Includes
Custom Outdoor Balaclava Face Masks
100% Custom Ski Mask Printed In Bulk
Full Color Dye Sublimation Printing
Dimensions: 10.25″ x 15.75″
Soft & Stretchy Milk Fiber fabric 
Lightweight, Stretchable, Washable, Fade-Resistant, Reusable
Split Art Fee: $25/version
Unisex Design fits most head sizes
Free Online Design Tool
UPF (Ultraviolet Protection Factor) 50+
Free Graphic Design & Free Shipping
Individual Poly Bag
Download Balaclava Template Here
Samples are available upon request
Average Turnaround: 2-5 weeks
Minimum Order: 50 Pieces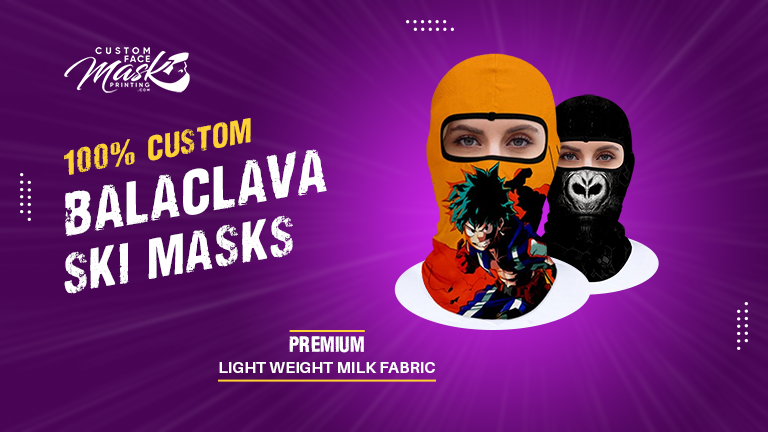 Custom Balaclava Ski Mask Printing
Personalized balaclavas are are not just helpful in keeping people warm. Thy have become one of the latest fashion trends. Our custom printed balaclava ski-masks are comfortable, breathable, washable and reusable.  You can personalize 100% of this balaclava masks with your full color logo, custom design, illustration or just about any pattern that you choose. Create a rugged looking camouflage mask and add your logo on top of it, or you can make it stand out with bright stylish colors that will ensure that your custom ski mask will be worn again and again. You can even change the background colors with your print run for an additional $25 set up fee per additional color or pattern variation. The fabric is soft and stretchable and will help keep people warm during the winter. These customized balaclava face masks are dye sublimated on the front and back and include a window at the top for you to see out of. Printed in full color on a soft and comfortable milk fiber fabric. It is a perfect promotional item or giveaway for ski resorts, tours, schools, fishing tournaments, special or sporting events.  Available in quantities as low as 50 pieces with UPF protection of 50+. A black outline will be included around the eyes.
We will design your branded balaclava for free and provide you with an eye catching design that will ensure a unique look that will keep people wearing them for years to come. Get started now – fill out the Design Request Form and we will do the rest. If you want to design your own mask, please download our balaclava ski mask template. We carry a full line of custom balaclava headwear, ski masks and face masks.
100% Custom Balaclava Ski Masks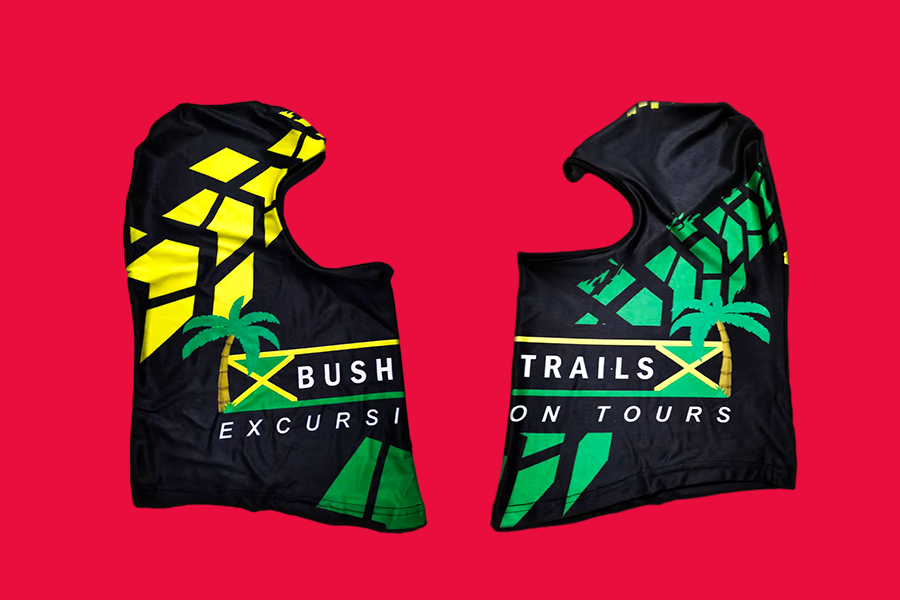 Unlike many of our competitors, we offer fully customized balaclava ski masks and head wear. We use state of the art dye sublimation to allow you to design and print a unique full color mask. While many of our competitors offer you a few solid colors which are then embroidered or screen printed. Our cutting edge process allows you to produce completely custom dye sublimated balaclava ski masks which can include colorful photos, illustrations, patters or just about anything else that you have in mind. Use full color, CMYK color to include millions of colors. We can even match specific PMS matches if your artwork is set up properly. We even design the mask for free – simple fill out our Design Request Form.
Perfect Giveaway or Retail Use
Custom baklava ski masks can be customized with your company's, brand, sports team, club or school 's logo and colors. Ideal for clothing brands, NFT and Crypto currency promotion ideas as well as ski resorts looking to sell in a retail environment or distributors selling wholesale through a wide distribution network. It is also ideal for companies looking for a unique promotional item for cost effective giveaways that are sure to be worn and used as a walking billboard. Perfect for sports teams, fishing and hunting clubs.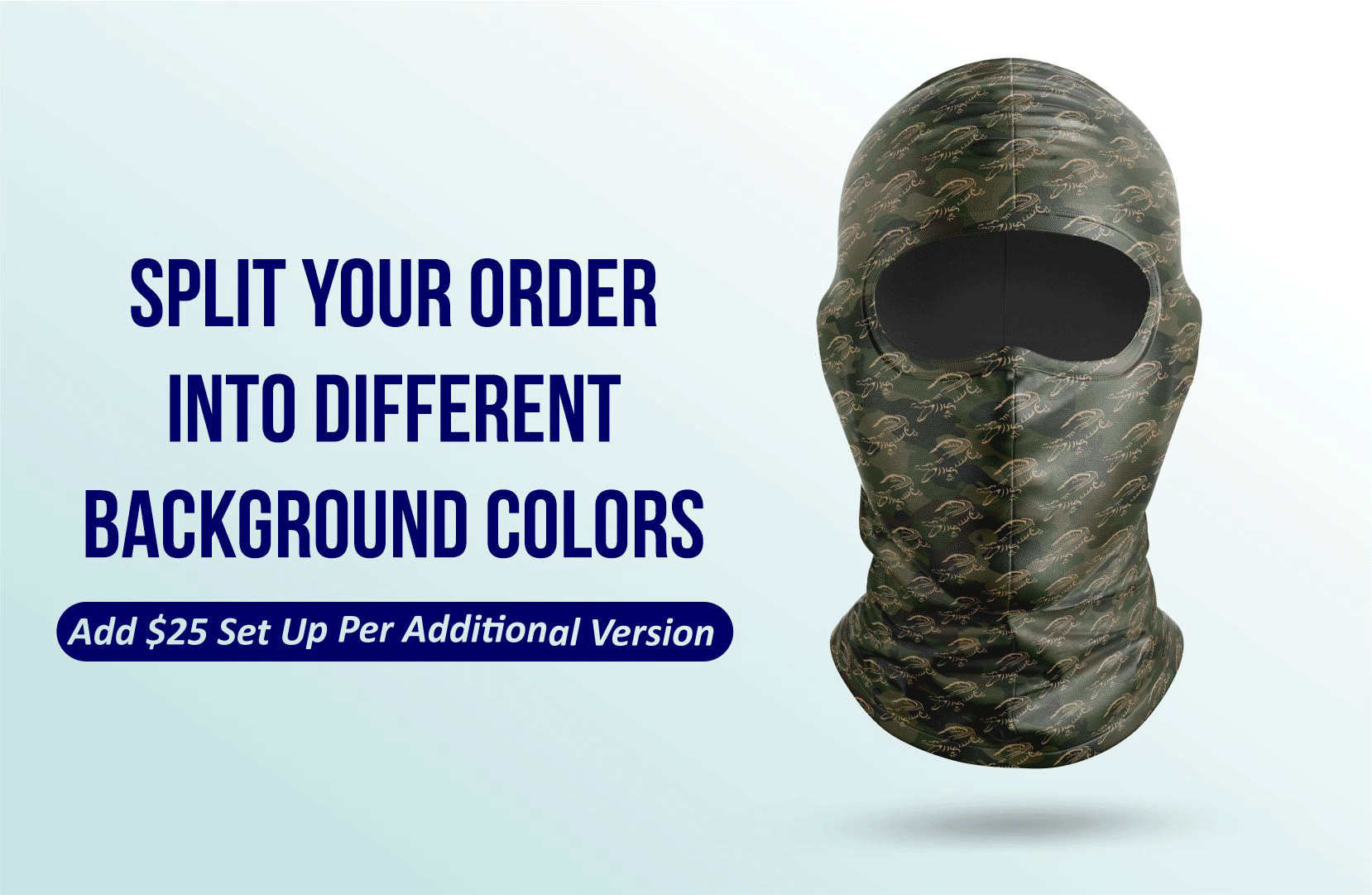 Color Variations Available
We are now able to split your art into different background colors or patterns without breaking the bank. If you order more than 50 pieces, you can now split up the quantity into up to 5 variations of background colors or patters. There is a $25 set up fee for each additional variation that you print.. For example, If you print 100 pieces and divide them into 5 different mask colors, there will be 4 set up charges, after the first free one.
FREE Graphic Design
We can design your custom printed ski masks and balaclava masks for free and bring your ideas to life. Simply fill out the design request form and we will do the rest. Simply send us your logo and idea, and we will show you several mock up ideas to choose from within 1-2 business days.

FREE  Shipping
All prices include free shipping with the united states. We also offer free shipping to just about anywhere in the world. However, we are not responsible for any local taxes or duties for international shipments. Contact us today to get the process started.