Custom Bandana Printing
Includes Full Color Digital Printing
Multi-Use Personalized Bandanas Printed In Bulk
Printed On  65% Polyester/ 35% Cotton Fabric.
Fabric weight: 23 g
Dimensions: 19″ x 19″ – Custom Sizes Are Available
Breathable, Lightweight, Washable and Reusable
Free Shipping
Helps Protect From The Elements, Germs and Infectious Diseases
Silk Screening Available For Larger Quantities and more simple designs
Individually poly bagged
Minimum Quantity: 100
Custom Bandana Sizes Available
Standard Turnaround: 2-4 weeks
Custom Bandana Printing
Our custom bandana printing solution provides you with a cost effective premium product that will be worn for years to come. Bandanas are printed in full color, on 1 side, using state of the art dye sublimation. The Polyester and Cotton fabric blend is soft and comfortable.  The bandana is breathable, lightweight, washable, reusable and can be used in worn in several ways..  The 'breathability' factor and its light weight, makes the custom printed bandana ideal for children, and adults alike.   The standard size is 19″ x 19″, but can be customized based on your needs. Call for a custom estimate. Retailers can make use of the bulk printing and the 'buy more, pay less' bulk buy options offered, for re-sale. We also offer bananas printed on other fabrics, to suit every preference. Full color, dye sublimation offers a print-friendly process, giving you the creativity and ability to personalize your custom design Bandanas and include your brand's logo or illustrations. A popular item for artists, tattoo shops, sports teams, universities and businesses of all kind. For the fashion conscious, every outfit can now personalized to include it's own matching Cotton bandana.  The  Bandana is completely customizable and can include your logo, team mascot or any other custom graphics. As protection from germs and infectious diseases, the durability and cost effectiveness of the Cotton Bandana makes it a must. No special washing instructions, and with 'quick-dry' fabrics, ensuring your family is safe is almost effortless. Includes free graphic design. Simply fill out our design request form, and we will do the rest.
Dye Sublimated & Silk Screened Bandanas
Printing is done using full color dye sublimation  as well as  silk screening if you are ordering larger quantities
Silk screened bandanas can be printed for more simplistic designs with less colors. Contact us today for a custom estimate.
Online Design or Free Graphic Deign
You can use our free online design tool to design your bandana. You can upload your own photos, add text and select from available templates.
We also offer free design from one of our talented artists if you are stuck or are looking for something more creative, we can help bring your ideas to life.  Simply email us your company information (name, contact name, phone number, billing and ship to address),, order details (quantity, size, fabric) as well as your logo in a vector format as well as general design direction. Simply fill out our design request form, and will do the rest.
Free Shipping
All prices for custom bandanas include free shipping within the United States.
Perfect For Schools, Clubs, Fundraisers and Businesses
Custom bandanas with logo are printed in bulk and provide you with the ability to brand your organization's look and feel. It can be used as a giveaway for promotional use or can be sold as a unique fundraising idea for schools, churches, universities or any non profit or for profit organizations.
1 Sided Bandana Printing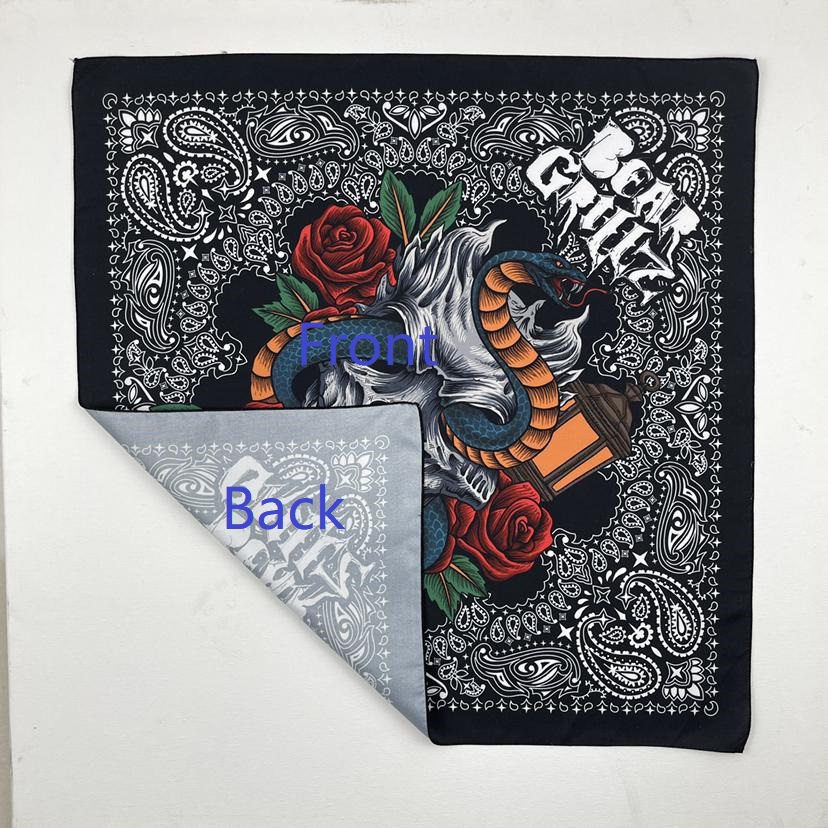 Our bandanas are printed on a polyester fabric, that can only printed on 1 side. The back of the banded will not be printed. The colors do show through the back, but it is a more faded look of the artwork.
Multi-Purpose Bandanas
The Cotton Bandanas multi-purpose versatility, allows for it to be so much more than just a standard face cover. Functioning as lightweight winter scarves; hair bands and bows; wash cloths on hiking trips, a fun fashion accessory for your pet, spectacle lens cleaner and a sleep mask, to mention just a few.
Easy To Use:
The Cotton bandana is easy to use. Just fold the bandana across, corner to corner, creating a triangle. Use the opposite ends of the bandana and tie firmly around the head, with a knot. No more tender spots and chaffing around the ears, from the traditional or surgical face masks.
We can also print custom bandanas for pets and dogs. Contact us today for a custom estimate.
Special Packaging:
Every bandana is individually poly-bagged, Do you have custom packaging requirements? Contact Us today for a free estimate.