Affordable Custom Neck Gaiter Masks
100% Customizable
4 Color Dye Sublimation Printing
Seamless Neck Gaiter
Recommended For Adults Ages 13+
Comfortable, Mutli-functional
Dimensions: 9.45″ x 18.89″ (flat)
Breathable, Lightweight, Stretchable, Washable and Reusable
Microfiber Polyester Fabric
Split Art Between Different Designs: Add $25/Additional Design
UPF (Ultraviolet Protection Factor)  30+
Free Online Design Tool
Free Graphic Design & Free Shipping
Multi-Purpose Neck Gaiter  With Over 15 Uses
Minimum Quantity: 100
Individually Packaged In A Poly Bag
Standard Turnaround: 2-4 weeks
Retail Packaging Is Available

Custom Neck Gaiters & Custom Gaiter Masks
Our custom neck gaiters allow you to print custom, premium full color neck gaiters at discounted price for your business, sports team, organizations or brand. These custom all-over printed promotional gaiters are printed on a polyester microfiber fabric blend, which is stretchable in 2 directions.  They are seamless, which means they don't include additional stitching at the top and bottom. This unique and multi-functional gaiter mask is printed on a large sheet of fabric, while one side is stitched to the other to create a multi-functional neck tube. Fabric is lightweight, breathable, moisture wicking and is perfect for both hot and cold weather. With a final size of 9.45″ x 18.89″, they can be ordered in quantities as low as 100 pieces. We also offer a more comfortable and softer fabric, which is included in the seamed neck gaiters. Most clients upgrade to seamed gaiter, which is printed on a softer and stretchier milk fiber, which is stretchable in 4 directs (in, out, up, down) as opposed to the polyester which only stretches in 2 directions.
Our custom neck gaiters are printed on your choice of a soft polyester microfiber fabric or a premium milk fiber, which is a silky fabric that is comfortable. All of our personalized printed gaiters are breathable, washable and reusable. They are a perfect item to help keep people safe during COVID-19. Custom Kids Neck Gaiter sizes are available as well as neck gaiters with ear loops.
Customize your entire neck gaiter or promotional custom printed head gaiter with your full color design. Dye sublimation allows you to use bright colors and even some PMS matches. You can include your logo, photograph, seal, illustration or any other design elements you choose. Design your custom gaiter online for free using our online design tool, or have one of our talented designers design something for you..
Free Graphic Design 
Design Your Own Seamless Custom Gaiter Online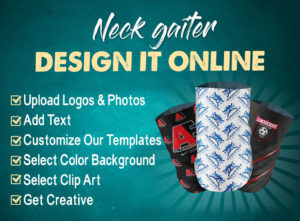 Use our free online design tool to design your personalized gaiter. You can upload your own logo, graphics, text and clip art. You can also select from one of our predesigned templates and customize it with your logo or text.  We can also help design it for you if you need help. Simply fill out the Neck Gaiter Design Request Form and we will do the rest.
      2. Free Graphic Design By Our Talented Artists 
If you need help bringing your idea to life, we offer free graphic design on all custom neck gaiter and custom gaiter mask orders. All you have to do is fill out the Design Request Form , send us your logo and ideas and we will do the rest. We offer basic set up and design, your choice of hundreds of background colors or we can  create a premium design or illustration for a fair price ($50-$120).  Contact us now for a free consultation and let us help you make the process easier.
Neck Gaiter Design Layout Options: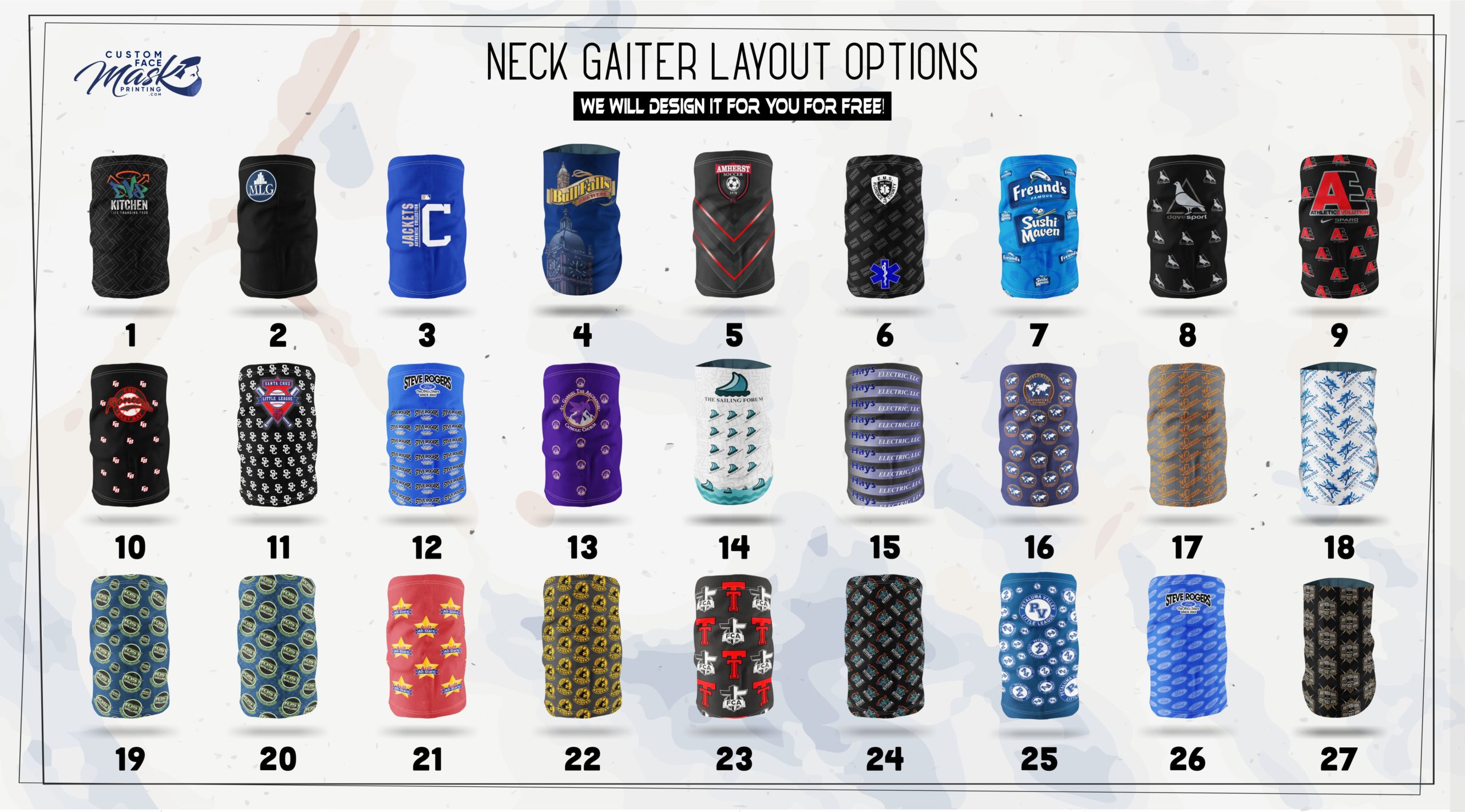 If you need help getting to the next step, our talented designers can show you several design ideas. We have over 27 layout ideas to bring your idea to life. All you have to do is fill out the design request form and we will do the rest.  When you provide us with your logo, company and order details and direction, we will show you mock ups within 24 hours.  Select one of the layouts options above or have us customize something for you. We can tile your logo in various ways or you select one of our other layout ideas. We are there for you until you are 100% satisfied.
Seamed Vs. Seamless Neck Gaiters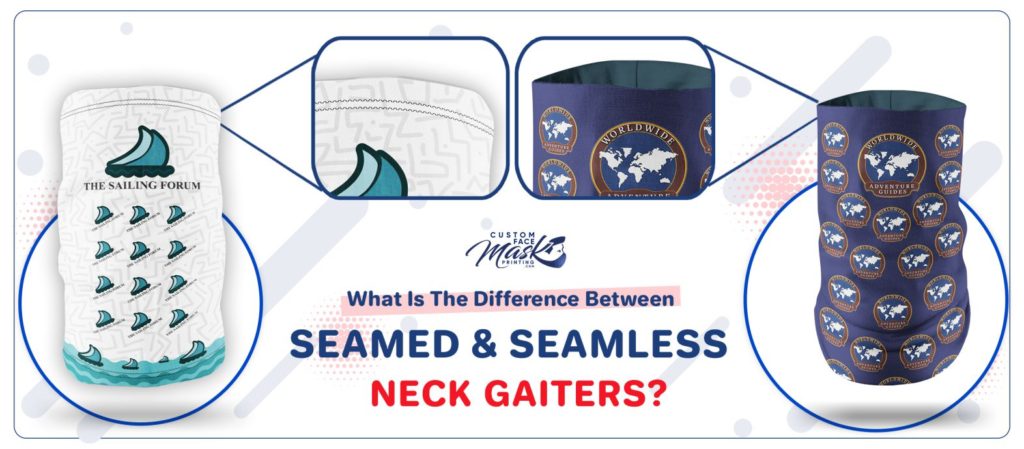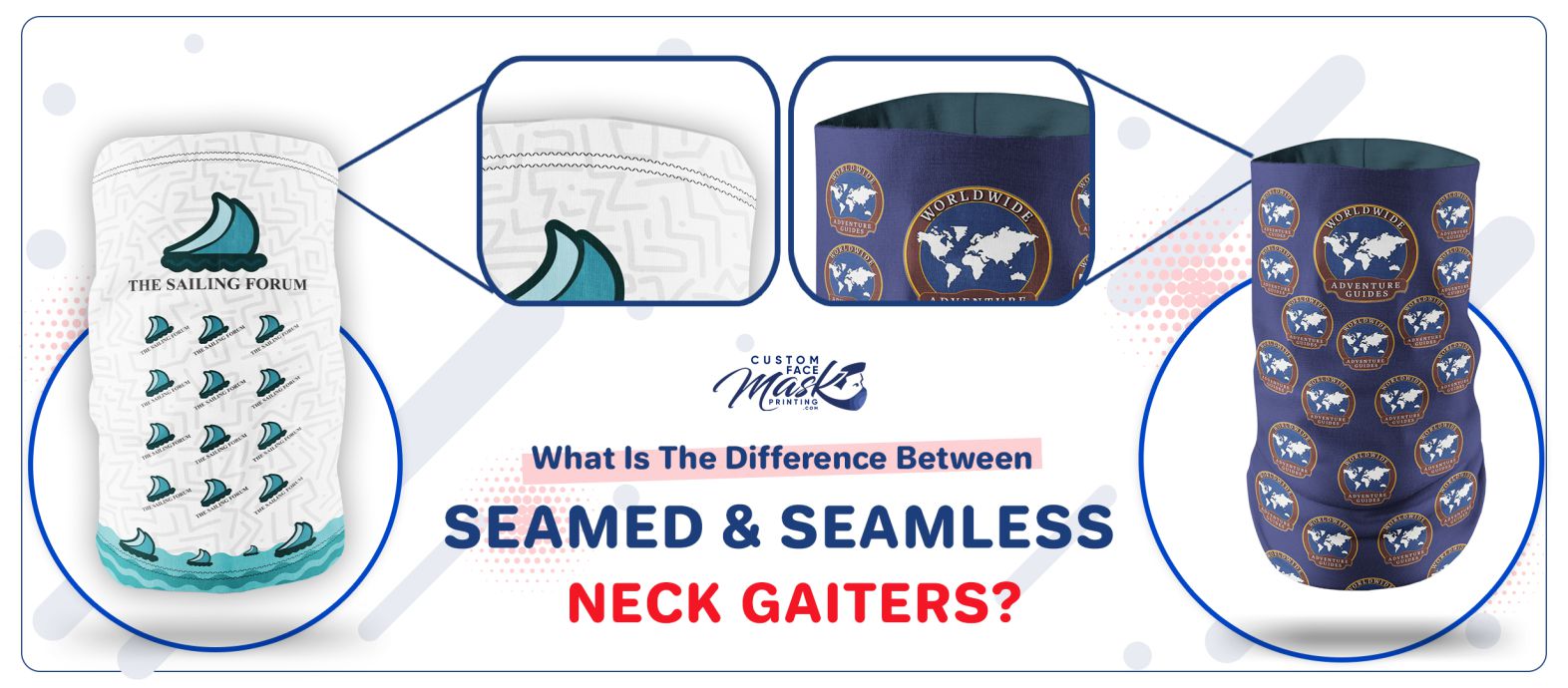 What is the difference between seamed and seamless neck gaiters?  With seamless neck gaiters, we print a large piece of fabric and stitch it together to form a tube. The fabric is trimmed, but does not include additional seaming or stitching at the top or the bottom. It is ideal when you want to keep your cost down or if you're giving way the gaiter as a promotional giveaway. However, it is a more basic product that has a less finished and complete look than seamed gaiters. Seamed gaiters look more complete as they include additional seaming or stitching at the top and the bottom, providing a more finished look. We would recommend a seamed neck gaiter option if you are planning on selling them or if you are looking for a higher end face covering. The seamed gaiters also include a free fabric upgrade to Milk Fiber
Whether you are looking for a custom neck gaiter for your church, sports team, Custom neck gaiters for your business, religious organization, high school, university, non profit organization or sports team, contact us today. They are perfect item for sports and various outdoor activities including running, hiking, cycling, traveling, fishing, skiing,  climbing and many other activities.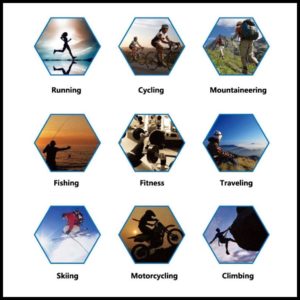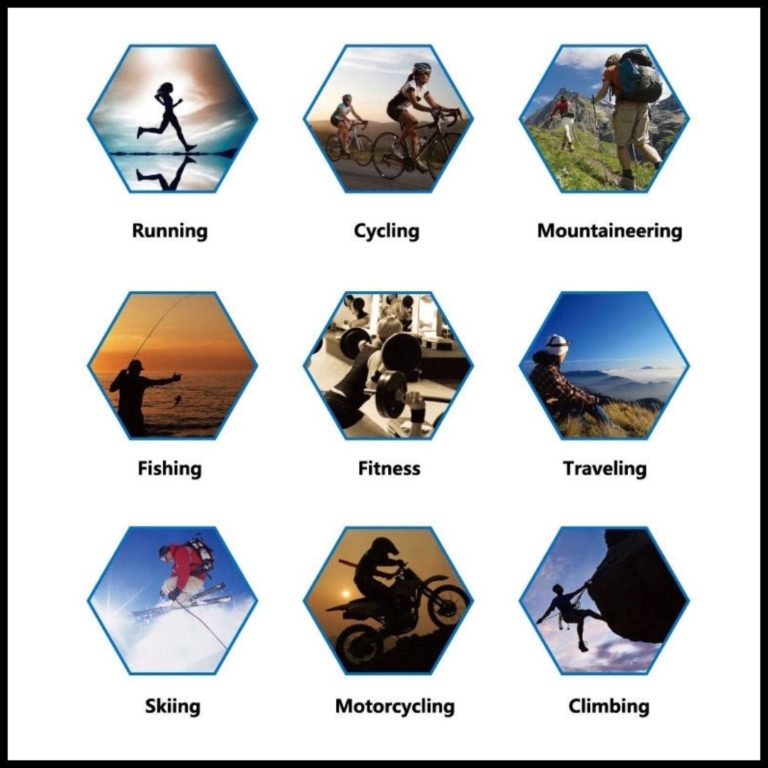 No Project Is Too Big:
We offer a low minimum of 100 pieces for custom neck gaiter printing in bulk. We can help whether you need a quantity of 100 or 100,000 pieces. Contact Us Today for a custom quote.
Neck Gaiters Are Multi-Functional: 
With over 15 uses, these versatile, multi-functional head coverings and gaiter masks can be used as masks, bandanas, scrunchies, neck warmers, hoods, scarf, beanie, pirate, caps, wristbands, headbands and neckwear.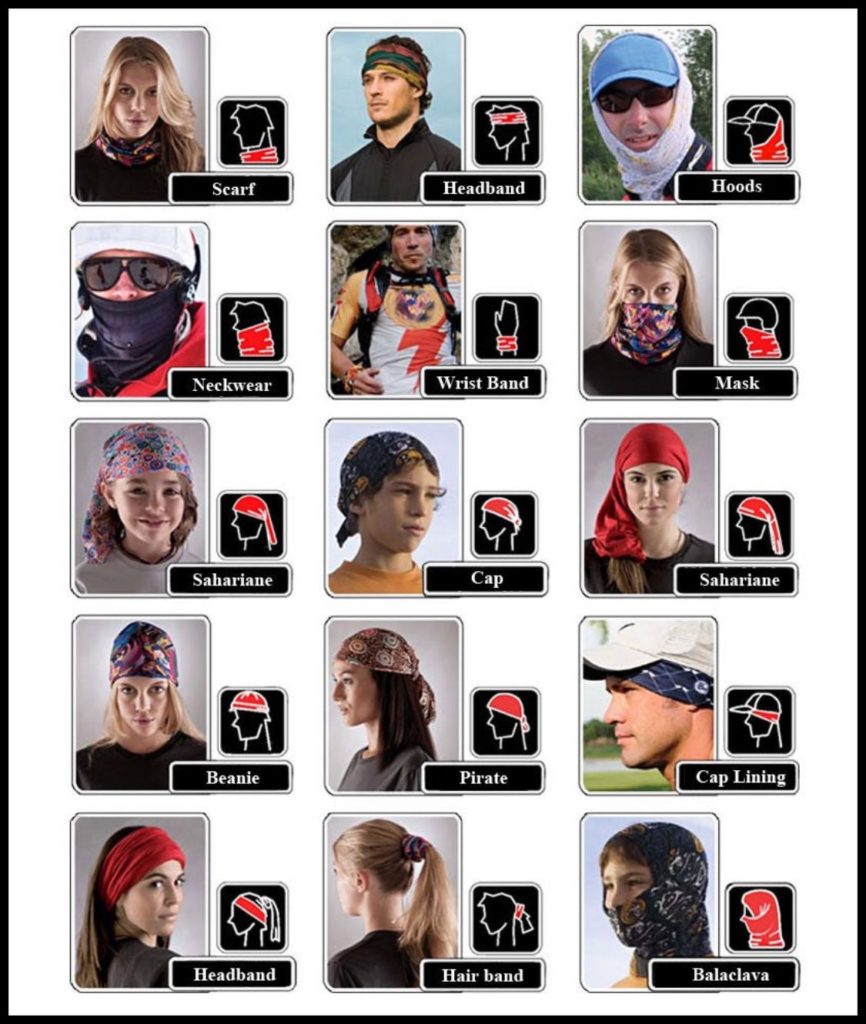 Ultraviolet Protection Factor (UPF)
The UPF rating measures the amount of UV radiation (both UVB and UVA) any given fabric reaches the skin. Polyester Fabric has a UPF rating of 30+, while Milk Fiber has a UPF rating of 50+. As a guide, any fabric containing UPF 50, blocks 98% of the sun's rays while allowing 2%  (1/50th) to get through. This greatly reduces your exposure to the sun's potentially dangerous effects.
Special Packaging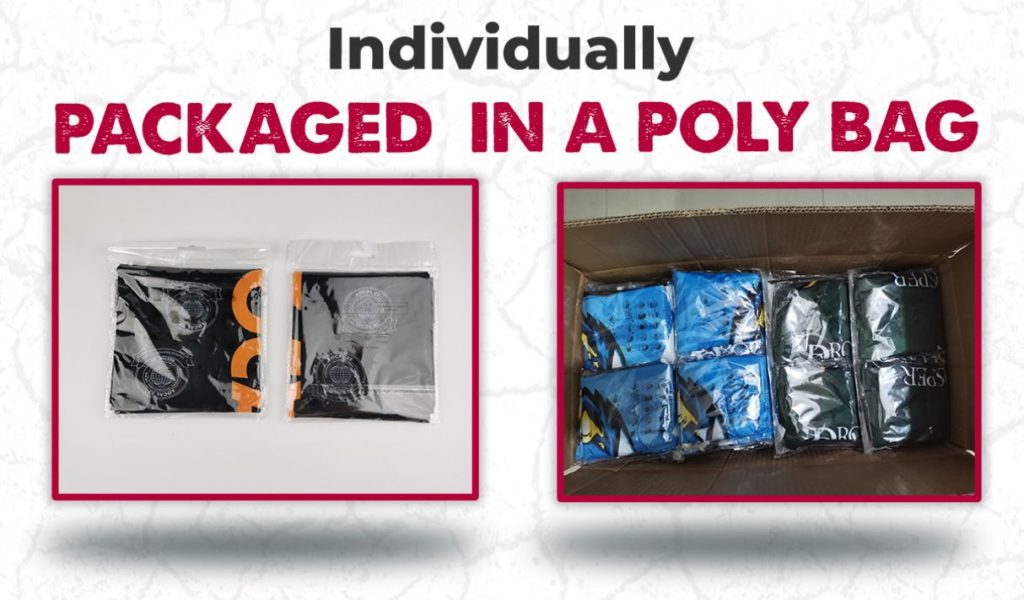 Our custom neck gaiters come individually packaged in a poly bag and are shipped in bulk. We also offer custom retail packaging options. Contact us today if your brand requires special packaging.
FAQ: 
What Is The Turnaround? 
The average turnaround is 2-4 weeks. Turnaround starts after final proof approval and payment has been made.
Can I Split My Order Between Different Artwork or Sizes?
Orders of 100 pieces can be split between different colors or artwork. Each additional version of the art is billed at $25/design with discounts available for larger orders. Contact us for other special requirements. We will do our best to accommodate your needs while keeping the cost down.
How Do I submit My Order Details If I Want You To Design My Gaiters?
If you do not want to use our website to submit your order, you can email your order. Please email [email protected] with the following information:
Company information: Company name, Contact Name, Phone number, Billing Address, Ship To Address
Order Details: Product Ordered, Product Details (Quantity, Size, Special Finishing or Packaging Requirements) and  Price
Design Information: Please send us your logo, ideally in a vector EPS format, along with the color that you're looking for as well as general instructions of what you had in mind. This can include tiling your logo or any custom instructions. Please reference designs that you like on this website or any other design that you might like.
How Long Will It Take For Me To Get  Proof For My Custom Design
We do our best to provide you with a premium design that you will be happy to showcase. Most proofs will be emailed to you within 1-2 business days of receipt and confirmation of details. Revisions are usually made within 24 hours.
Is It Easy To Put On The Tubular Bandana?
Yes, very easy. Simply stretch the opening and place it over your head. Pull it down to the desired position and you're done.
Does A Neck Gaiter Guarantee Protection From Infectious Disease?
Neck gaiters can help protect against Covid-19, but it is not meant to be used in medical settings. We can also not guarantee that they will prevent against infection or the transmission of viruses.
What Is Dye Sublimation? 
Dye sublimation printing is a printing process that sets ink into a synthetic fabric  and allows you to print in full color. The process uses high heat to create a product that does not allow the ink to rub off. You can print bright colors and even some PMS colors by embedding the inks in the fabric's fibers. The process allows the sublimation ink to transform from a solid to a gas without becoming a liquid. Click here for more information.
Is There Limitations With Dye Sublimation?
Although sublimation is a versatile process, its limitations include printing of small text or lines and some gradients can show imperfections.
Do You Print Face Masks?
Yes, we offer a full line of custom face masks that can be customized with your logo.
Can I Order A Sample Before I Order?
Yes, we offer free samples of our custom neck gaiters. Simply fill out the contact us form and submit the product that you're interested in and we will send you a free sample. You can also purchase samples 4 standard kids or adults neck gaiters. We are NOT able to ship you a printed sample with your own design before production. Upon request, We can email you a picture of your preproduction sample for final approval.