Custom balaclava ski mask printing is becoming increasingly popular with a variety of industries thanks to their versatility, practical use, fashion trend and comfort. Our custom balaclava ski masks are 100% customizable so you can use your custom design on the entire ski mask. They personalized balaclava masks include your fully custom full color design. They are perfect for a variety of industries. From skiing, fishing and snowboarding to construction and landscaping, these custom balaclava face masks provide superior protection from the elements. The lightweight, breathable fabric is designed to keep you warm and dry while providing maximum comfort. The adjustable fit allows you to customize the mask to your face, ensuring a snug and secure fit. The custom balaclava ski masks can be fully customized to include full color graphics, your company logo, illustration or any other colors and patterns, allowing you to express your brand.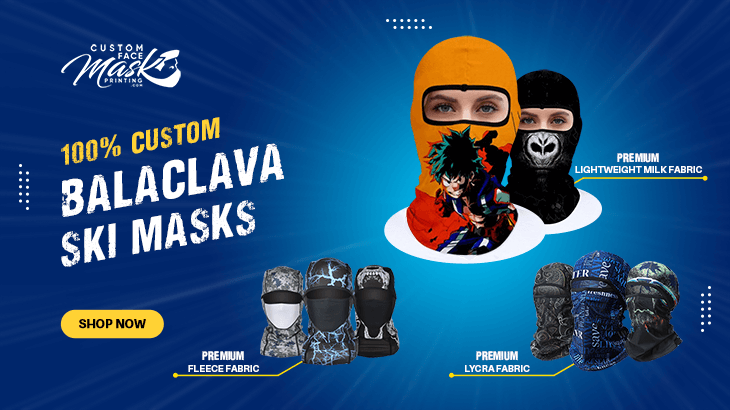 Whether you're hitting the slopes or working outdoors, our custom balaclava ski masks will keep you protected and looking greatWith custom balaclava ski masks, you can add your own unique style and design to your ski mask. Printed balaclava masks are popular in promoting of up and coming record labels and clothing companies that are looking for an alternative way to promote themselves. Throughout Covid, we have seen the trend grow from custom printed masks and neck gaiters to custom balaclava masks customized with their brand's logo, colors and vision.
Here are 10 reasons why custom balaclava ski masks are popular:
1. 100% Custom Ski Mask Printed In Bulk: With custom balaclava ski masks, you can get your own unique design printed in bulk. The more you buy, the more you save. This means you can order as many as you need for your team, family, or friends. We do have a 50 piece minimum for custom orders of printed balaclava ski masks.
2. Full Color Dye Sublimation Printing: With full color dye sublimation printing, you can get your design printed in vibrant colors that won't fade or wash away. Dye sublimation balaclava ski masks are a great choice for winter sports enthusiasts. They are designed to provide maximum protection from the cold and wind while still allowing for breathability. The dye sublimation process ensures that the colors won't fade or run, and the fabric is lightweight and comfortable milk fiber. The masks are also designed to fit snugly, providing a secure fit that won't slip or move around. The masks are also machine washable, making them easy to care for and maintain.
3. Dimensions: The dimensions of custom balaclava ski masks are 10.25″ x 15.75″, making them perfect for a variety of head sizes. They can be used by men, women, adults and even older children.
4. Soft & Stretchy Milk Fiber Fabric: The fabric used for custom balaclava ski masks is soft and stretchy, making them comfortable to wear. Milk fiber fabric is an excellent choice for custom ski masks. It is lightweight, breathable, and offers protection from cold weather. It is also highly durable, making it ideal for outdoor activities. Milk fiber fabric is also naturally anti-bacterial and anti-fungal, making it a great choice for those with sensitive skin. The fabric is also quick-drying and moisture-wicking, helping to keep the wearer cool and comfortable. Additionally, milk fiber fabric is naturally hypoallergenic and offers superior UV protection, making it a great choice for those who are looking for a ski mask that will keep them safe from the elements.
5. Lightweight, Stretchable, Washable, Fade-Resistant, Reusable printed ski masks: CustomFaceMaskPrinting.com's Custom balaclava ski masks are lightweight, stretchable, washable, fade-resistant, and reusable, making them perfect for multiple uses.
6. Split Art Fee: There is a split art fee of $25/version, so you can get multiple versions of your design printed. Splitting up your order for balaclava masks between different art is a great way to get the most variety out of the final design. By using your logo in multiple art, you can create a unique and eye-catching look that will stand out from the crowd while keep the look and feel of your brand. Plus, you can take advantage of the $25 fee per additional art used to create a cost-effective catalog of trendy printed ski masks that are bound to make a fashion statement. With multiple variations, you can create a design that is sure to make an impact and leave a lasting impression on your customers with each variation.
7. Unisex Design Fits Most Head Sizes: The unisex design of custom balaclava ski masks fits most head sizes, making them perfect for everyone.
8. Free Online Design Tool: You can use the free online design tool to create your own custom design for your balaclava ski mask. Using our free online design tool to design custom ski masks can save you valuable time and money compared to sending us the information and filling out our free online design tool. You can create a unique design without spending a fortune
9. UPF (Ultraviolet Protection Factor) is an important feature to consider when using milk fiber fabric for custom balaclava mask printing. UPF is a measure of how much of the sun's ultraviolet radiation is absorbed by the fabric, and is rated on a scale from 15 to 50+. A UPF rating of 50+ indicates that the fabric blocks out 98% of the sun's UV rays. This is important for balaclava masks, as they are often worn in outdoor activities and need to provide adequate protection from the sun's harmful rays. Milk fiber fabric is also lightweight, breathable, and moisture-wicking, making it an ideal choice for balaclavas. It is also highly durable, so it will last for many years of use.
10. Fully custom balaclava ski masks are becoming increasingly popular as a trendy item for clothing lines and record labels. These masks are made from a variety of materials, including cotton, polyester, and spandex, and can be customized with logos, slogans, and artwork. They are perfect for adding a unique and stylish touch to any outfit, and can be used to promote a brand or artist. They are also great for keeping the wearer warm and protected from the elements.
Thanks for reading about the benefits of custom balaclava printing! If you're interested in creating and printing your own custom balaclava, head over to Custom Face Mask Printing's most popular and cheapest custom balaclava masks to get started. With their easy-to-use design tool, you can create a unique and stylish balaclava that's perfect for your needs. So don't wait – get your custom balaclava today! You're always welcome to call us (855) 375-4637 or contact us now.
We also carry a full line of full color offset & digital printing , seamed neck gaiters, seamless neck gaiters custom bandanas and custom face masks printing with nose bridge , custom placemat printing.